WORLD OF CONCRETE
POSTED January 11, 2016
SKYJACK TO SHOWCASE NEW TELEHANDLER RANGE AT WORLD OF CONCRETE
Linamar Corporation's (TSX-LNR) Skyjack division will embark on its first public showing of its new TH-series telehandlers in February at World of Concrete (booth C7261), an annual show dedicated to commercial concrete and masonry construction industries, in Las Vegas, Nevada.
"We are excited to launch the new TH-range of telehandlers at World of Concrete, especially since they have been developed as a competitively priced range with strong performance and many unique features –making them ideal for applications in the concrete and masonry construction industries," said Malcolm Early, vice president of marketing, Skyjack.
The four models in the new TH series includes:
With the new TH-series, Skyjack is offering Tier IV Final telehandlers without the cost and complexity increase that normally accompanies a tier engine change. Skyjack took the opportunity to completely re-assess telehandler designs while implementing the Tier IV Final engines. Compared with older models, the TH range offers simpler rear axle stabilization, hydraulics systems, outriggers, controls, engine servicing, electronics and option packages – staying true to Skyjack's Simply Reliable philosophy.
"The new range offers leading return on investment while staying true to Skyjack's simply reliable philosophy – providing machines that are easy to service and maintain," Early said.
Product showcase
At World of Concrete, Skyjack will be exhibiting products designed to appeal to both new and existing Skyjack customers.
The company will exhibit:
• Telehandler – SJ843 TH, SJ1056 TH and ZB2044
• Rough terrain scissor lift – SJ6832 RT
• Articulating boom lift – SJ63 AJ
• DC Scissor – SJIII 3219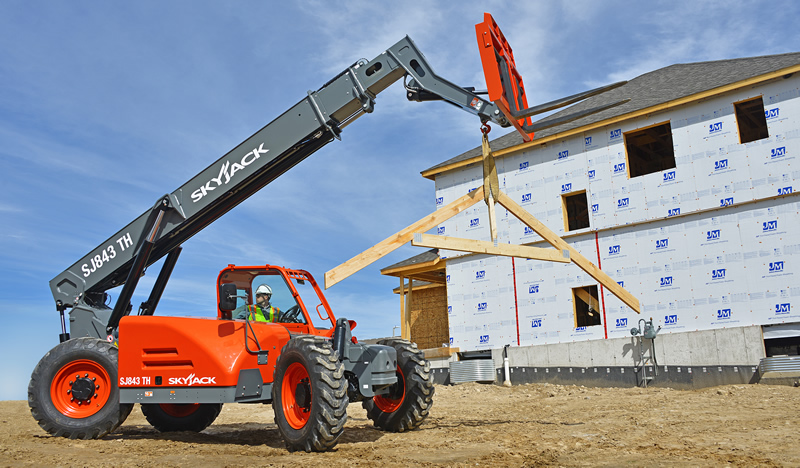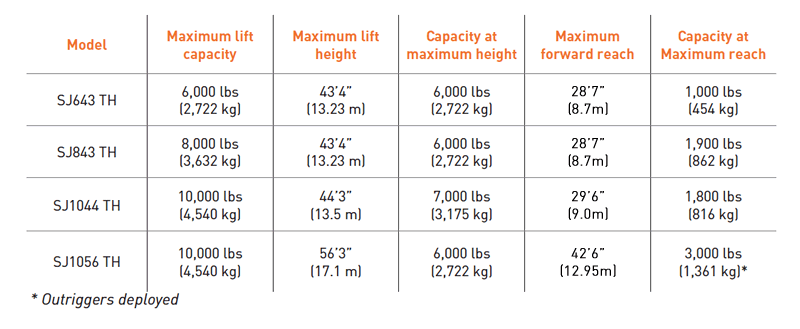 /sites/default/files/attachments/cms_news/th-specs2.gif