Unparalleled
Up-And-Over
Skyjack articulating booms offer precise positioning capabilities packaged in a high capacity boom with industry-leading up-and-over reach. The tight turning radius on these machines and minimal tailswing make them ideal for maneuvering in confined areas.
SPEEDYREACH™
Skyjack's SJ63/85 AJ features a boom geometry that allows the operator to lower the main fly boom to ground level to restock on material or supplies, then return to full height at the original working position - without lowering the riser section. It can be quickly executed and there is no need for machine repositioning or having to remember the sequence of operations to get back to the original working position - thus, improving productivity.
SKYRISER™
Ensures that the riser and main pivot point connecting the fly boom to the riser travel in a straight vertical line. Movement in a true vertical manner, without drifting forward or back, reduces the amount of repositioning the operator needs to do in order to stay close to a building facade, improving productivity.
EASYDRIVE™
This means the boom lift controls are always in the orientation of the operator regardless of position of turret over chassis. This reduces operator confusion by eliminating the need for colour coded arrows to determine drive versus joystick direction.
SKYCODED™
A proven and reliable control system, incorporating Skyjack's color coded and numbered wiring system, make our machines the easiest to trouble shoot and repair which means easier maintenance and lowered costs.
AXLDRIVE™
An axle-based drive system with an operator controlled locking differential on the rear axle and limited slip differential on the front axle. This drive system has been proven as durable, low maintenance, and capable of navigating any job site terrain.
ACCESSORYZERS™
Skyjack offers a full line of ACCESSORYZERS™ to improve your machine's versatility. These manufacturer-approved accessories are designed to add functionality to your machine and convenience for the operator. Whether it's helping you get materials to the work site, protecting equipment from the weather, or enhancing productivity, Skyjack has the right accessory for the job.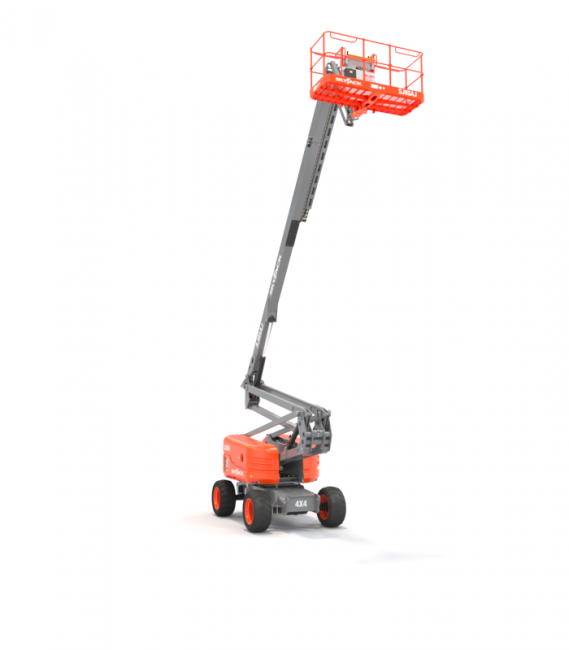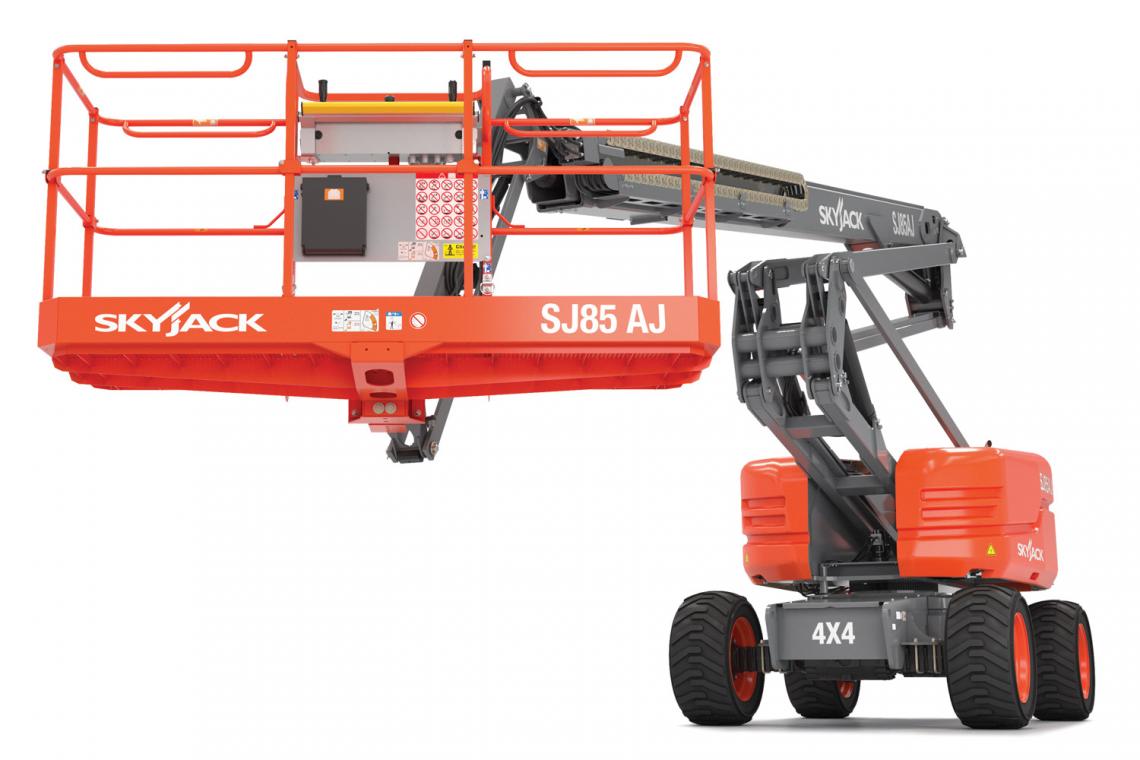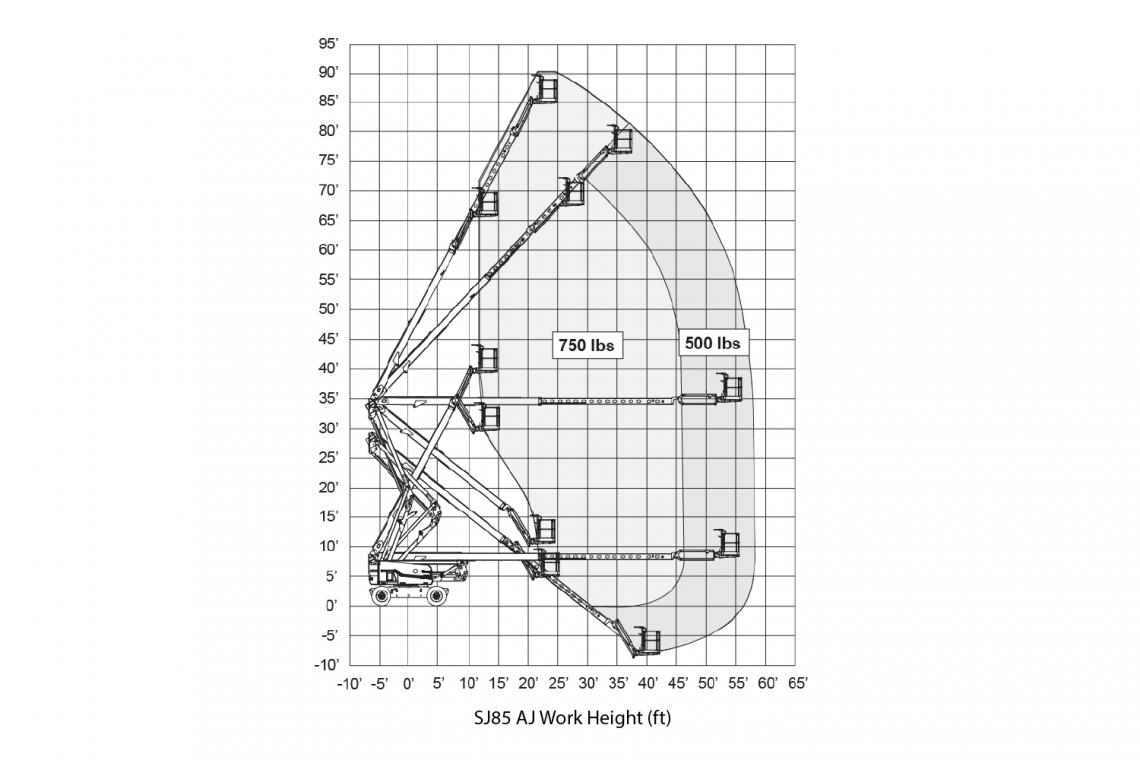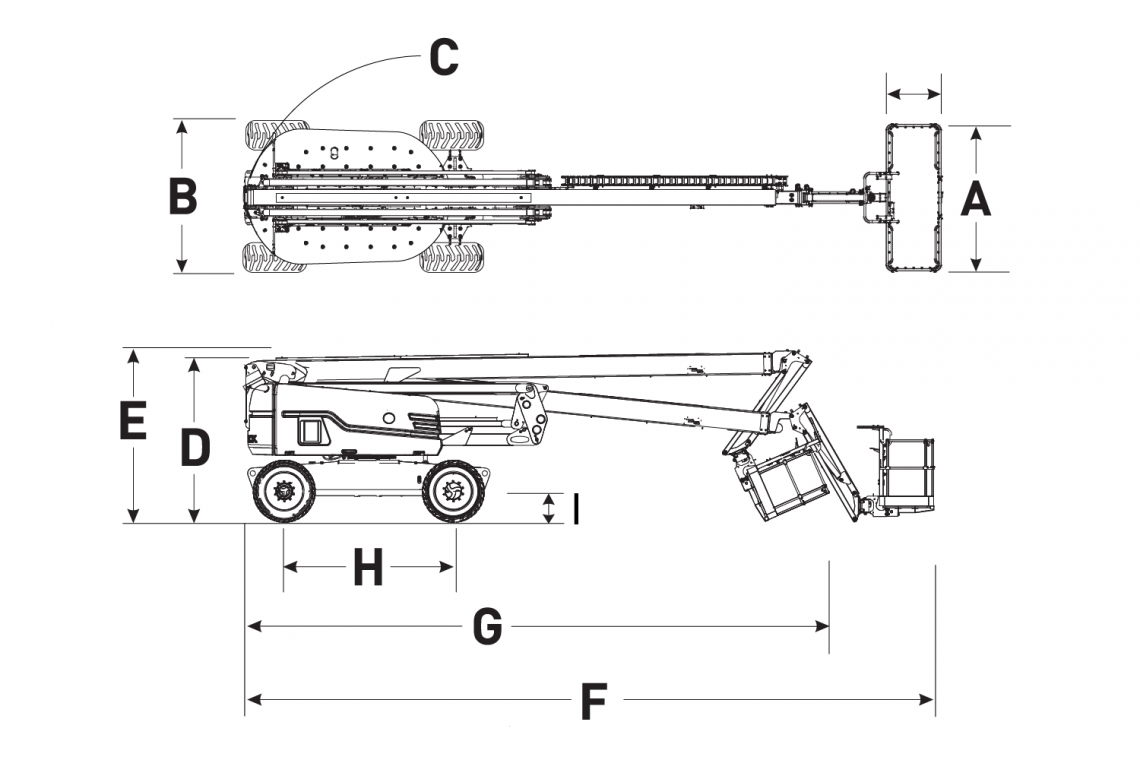 | | SJ85 AJ | |
| --- | --- | --- |
| Work Height | 91' (27.74 m) | |
| Platform Height | 85' (25.91 m) | |
| Up and Over Height | 34' (10.36 m) | |
| Platform Size | 36" x 96" (0.91 x 2.4 m) | |
| Stowed Width | 8' 2" (2.49 m) | |
| Tailswing | 2' 10" (0.86 m) | |
| Stowed Height | 8' 9" (2.67 m) | |
| Transportation Height | 8' 9" (2.67 m) | |
| Stowed Length | 38' 2" (11.63 m) | |
| Transportation Length | 10.03 m | |
| Ground Clearance | 13" (0.34 m) | |
| Wheelbase | 9' 4" (2.84 m) | |
| Rotation | 360° | |
| Platform Rotation | 170° | |
| Jib Length | 5' 6" (1.68 m) | |
| Jib Range +/- | +65° / -60° | |
| Weight | 37,400 lbs (16,965 kg) | |
| Gradeability | 45% | |
| Turning Radius (Inside) | 10' (3.05 m) | |
| Turning Radius (Outside) | 20' 5" (6.22 m) | |
| Axle Oscillation | 4" (10.16 cm) | |
| Drive Speed (High speed) | 3 mph (4.8 km/h) | |
| Capacity | 500 / 750 lbs (227 / 340 kg) | |
| Horizontal Reach | 56' (17.07 m) | |
| Local Floor Load (With Rated Load) | 171 psi (12.01 kg/sq cm) | |
| Overall Floor Load (With Rated Load) | 355 psf (1,733 kg/sq m) | |
| Maximum # of Persons | 2 / 3 | |
| Tire Type | Grip lug foam-filled | |
| Tire Size | 18-625 | |
| Diesel Engine | 74 HP | |
| Dual Fuel Engine | 87 HP | |
| Fuel Tank | 30.4 gal. (115 L) | |
| Hydraulic Reservoir | 45 gal. (170 L) | |
accessories and options
SJ85 AJ
3.5 kW GENERATOR
36" x 72" PLATFORM
ARCTIC WEATHER PACKAGE
AUXILIARY TOP RAIL
BIO OIL
BOOM PIPE RACK
COLD WEATHER PACKAGE
CONTROL BOX COVER
EXTENDED WARRANTIES
FLASHING LIGHT
HOSTILE ENVIRONMENT PACKAGE
HYDRAULIC OIL COOLER
NON DESTRUCTIVE TESTING
POSITIVE AIR SHUT-OFF VALVE
SIDE GATE
TIRE OPTIONS
TOOL CADDY
WELDER PACKAGE
WELDER READY
½" AIRLINE TO PLATFORM
ELEVATE