SIMPLY TRANSFORMED
Skyjack's Next Generation Vertical Mast Lifts provide a quiet and versatile package with zero emissions and other ECO benefits. Variable speed direct AC electric drive provides exceptional duty cycles, while their proportional drive and lift controls offer superior drive efficiency and consistent torque.
ECO
Rental companies and major contractors face increasing demands for sustainability information. Skyjack has introduced its ECO mark to support our customers by providing products that deliver benefits in environmental performance and long-term sustainability.
ACCESSORYZERS™
Skyjack offers a full line of ACCESSORYZERS™ to improve your machine's versatility. These manufacturer-approved accessories are designed to add functionality to your machine and convenience for the operator. Whether it's helping you get materials to the work site, protecting equipment from the weather, or enhancing productivity, Skyjack has the right accessory for the job.
SKYCODED™
A proven and reliable control system, incorporating Skyjack's color coded and numbered wiring system, make our machines the easiest to trouble shoot and repair which means easier maintenance and lowered costs.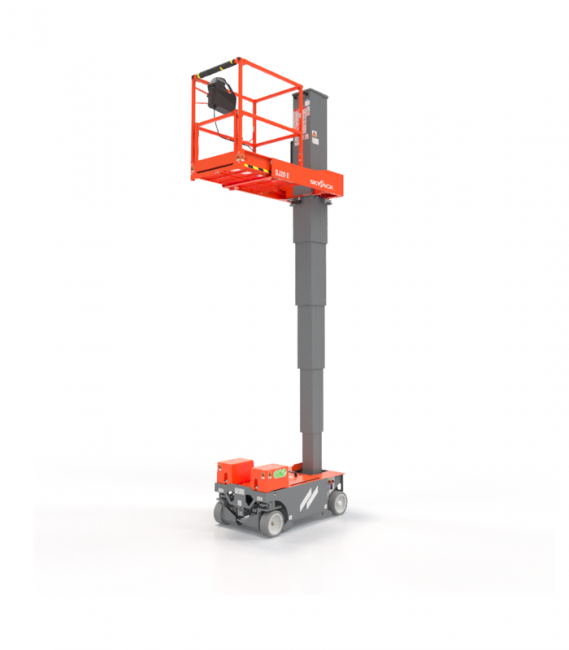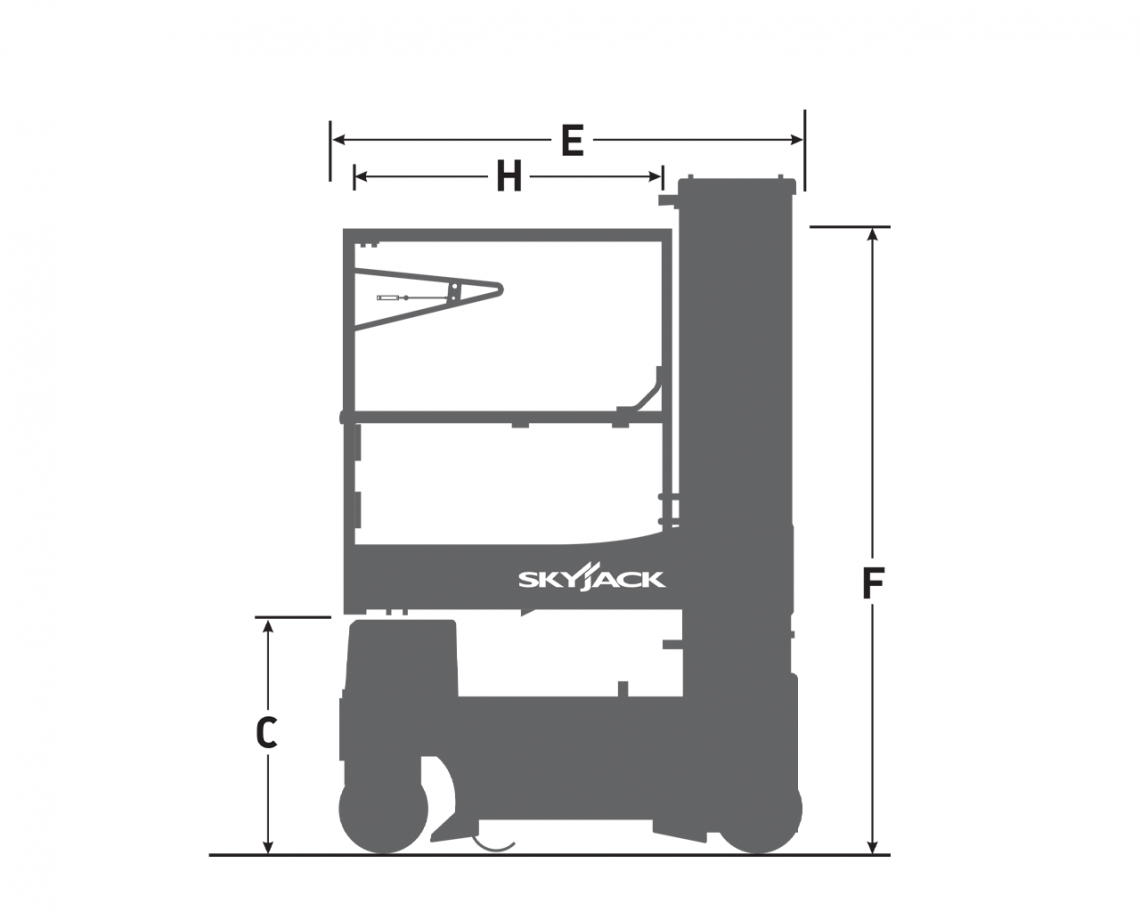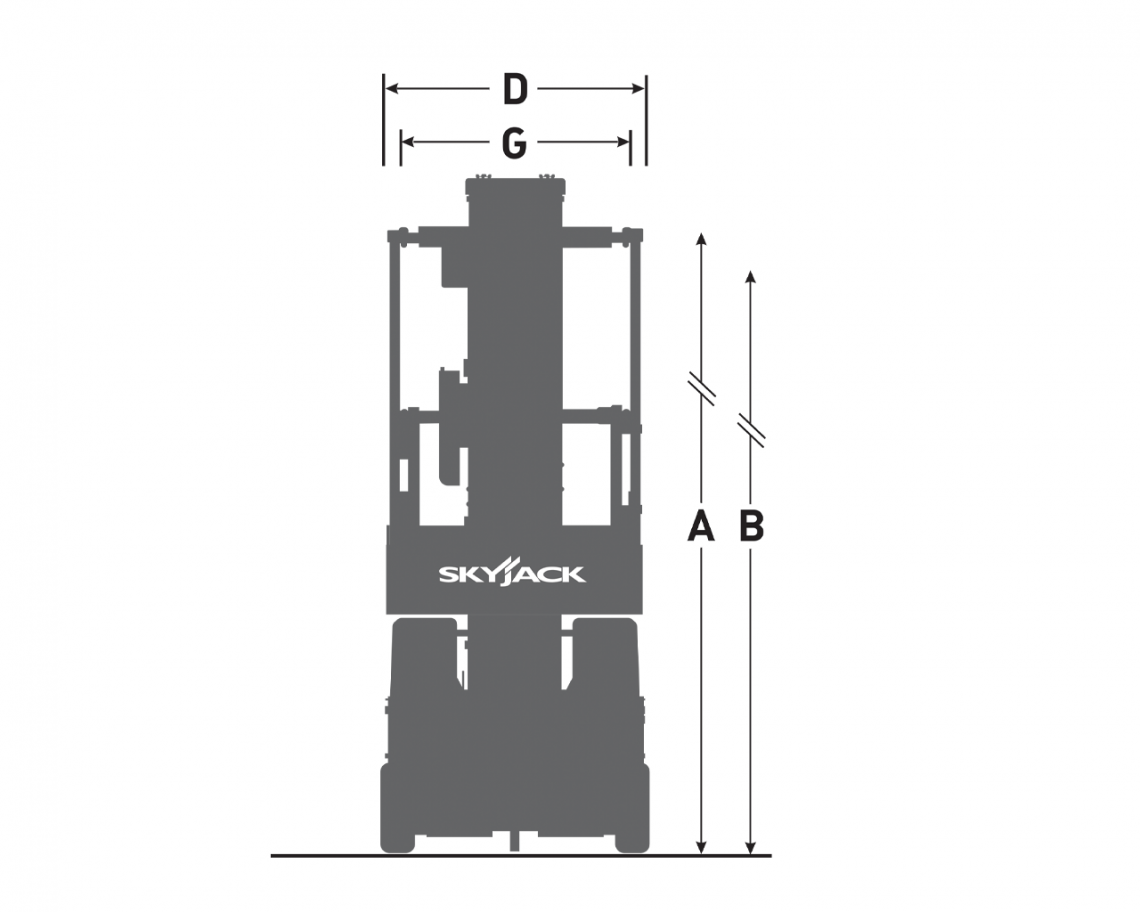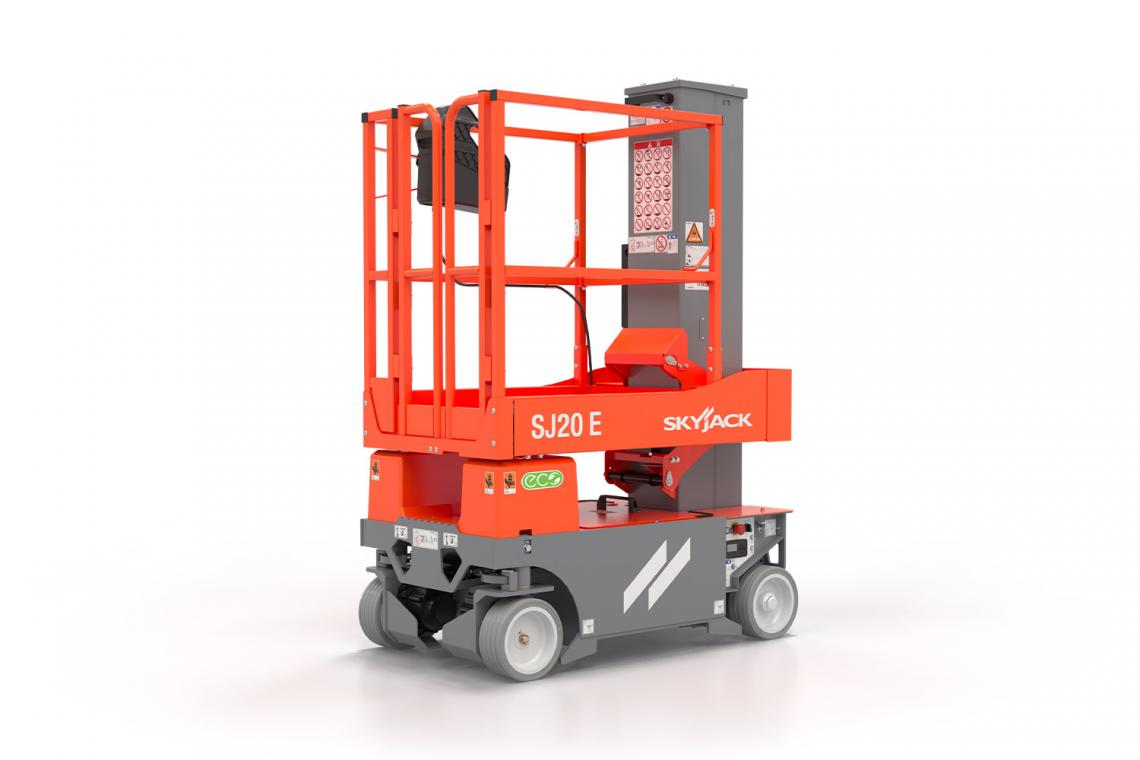 | | SJ20 E | |
| --- | --- | --- |
| Work Height | 25' 6" (7.77 m) | |
| Raised Platform Height | 19' 6" (5.94 m) | |
| Lowered Platform Height | 30" (0.76 m) | |
| Overall Width | 31.5" (0.80 m) | |
| Overall Length | 54" (1.37 m) | |
| Stowed Height | 79.5" (2.0 m) | |
| Platform Width (Inside Dimension) | 27" (0.69 m) | |
| Platform Length (Inside Dimension) | 36" (0.91 m) | |
| Extension Deck (Roll Out) | 16" (0.41 m) | |
| Ground Clearance (Stowed) | 1" (2.54 cm) | |
| Ground Clearance (raised) | 3.5" (9 cm) | |
| Wheelbase | 44" (1.12 m) | |
| Weight | 2,440 lbs (1,107 kg) | |
| Gradeability | 25% | |
| Turning Radius (Inside) | 0 | |
| Turning Radius (Outside) | 55" (1.40 m) | |
| Lift Time (With Rated Load) | 26 sec | |
| Lower Time (With Rated Load) | 26 sec | |
| Drive Speed (Stowed) | 2 mph (3.0 km/h) | |
| Drive Speed (Raised) | 0.3 mph (0.5 km/h) | |
| Maximum Drive Height | Full Height | |
| Capacity | 350 lbs (159 kg) | |
| Capacity (Overall) | 350 lbs (159 kg) | |
| Local Floor Load (With Rated Load) | 148 psi (1,021 kPa) | |
| Overall Floor Load (With Rated Load) | 237 psf (11.3 kPa) | |
| Maximum # of Persons | 1 | |
| Wind Rating | 0 (Optional 1 @ 28 mph (12.5 m/s) | |
| Tire Type | Solid, N/M | |
| Tire Size | 10" x 4" (252 mm x 102 mm) | |
accessories and options
SJ20 E
BATTERY OPTIONS
BIO OIL
DUAL FLASHING LIGHTS
EXTENDED WARRANTIES
FLUORESCENT TUBE CARRIER
LIGHT DUTY PIPE / STEEL STUD RACK
NON DESTRUCTIVE TESTING
SALOON GATE
SGLE
TOOL TRAY
ELEVATE