SJ30 ARJE AT BAUMA
POSTED April 04, 2016
ROTATING JIB AMONG HIGHLIGHTS OF SKYJACK'S LATEST BOOM
Linamar Corporation's (TSX-LNR) Skyjack division showcased the SJ30 ARJE articulating boom at Bauma 2016, the world's largest construction equipment show. The SJ30 ARJE is a unique machine for Skyjack — it is the company's first electric boom, it's also the first boom to feature a rotating jib, and to have a direct electric AC drive.
"From the outset Skyjack identified two key parameters for these electric booms. Along with offering competitive reach specifications, Skyjack's 30 ft electric booms also feature exceptional drive and duty cycle performance," said Corey Connolly, Skyjack product manager. "Drive from an AC electric source means that activities like loading and unloading trailers is easy, and increased duty cycles maximize the amount of work possible from a fully charged machine."
Perfect for tight spaces, the SJ30 ARJE comes in it at just 1.19 m (47 in) wide and features a working height of 11 m (36 ft), up-and-over clearance of 4 m (13.1 ft), a 1.55 m (61 in) turning radius and maximum weight capacity of 227 kg (500 lbs).
"A lot of manufacturing and warehouse facilities have narrow and confined spaces that require up-and over access. With its narrow dimensions and zero tailswing, the SJ30 ARJE is ideally suited for their needs in the 30 ft and under reach zone," said Connolly. "The SJ30 ARJE is a perfect complement to our electric scissor lifts, that are limited to the up-and-over clearance of their extension decks."
Easy to maneuver
Following Skyjack's easy-to-use and simply reliable philosophy, the company optimized the drive on the SJ30 ARJE to offer 35% gradeability to make navigating jobsites, as well as loading and unloading from a trailer, a lot easier.
"The SJ30 ARJE also offers exceptional duty-cycle performance," Connolly said. "Optimizing the battery size and charger, along with drive and lifting functionality, the SJ30 ARJE will go further and higher on a single charge — while also keeping charging times down."
As with all Skyjack machines, the SJ30 ARJE was designed around the simply reliable philosophy. The SJ30 features SKYCODED™, Skyjack's dependable relay based control system; SKYRISER™, Skyjack's true vertical rise system; and EASYDRIVE™, Skyjack's exclusive direction sensing drive and steer controls. The use of off-the-shelf parts leads to ease of maintenance and reduces downtown for repairs.
"This product really helps to fill out our product line and fills a demand customers have been asking for in our line," he said.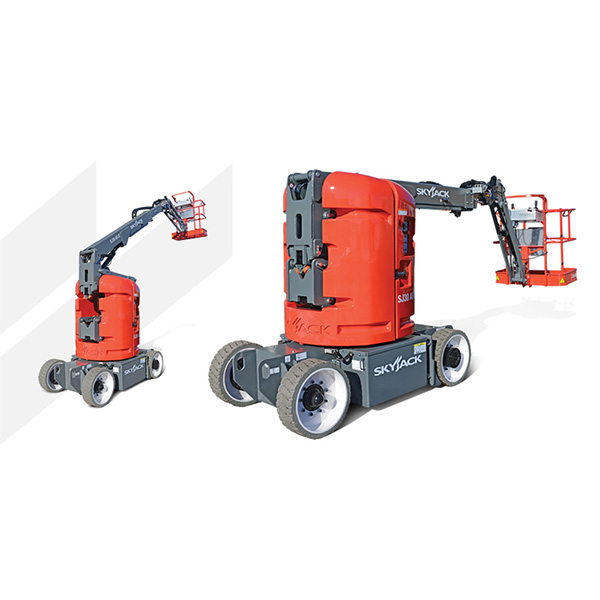 /sites/default/files/attachments/cms_news/30aj_launch2.jpg