Heerlen Music Festival
POSTED May 12, 2016
SKYJACK ELEVATES DUTCH MUSIC FUNDRAISING FESTIVAL
Skyjack helped create a rapturous mood when a SJ9250 RT rough terrain scissor lift was used to elevate bands playing at a music festival in the Dutch city of Heerlen.
Organizers of Serious Request, a fundraising festival, wanted a way to lift performers above the crowd of 658,000 and serve as a stage for the musicians and singers.
"We asked the bands who were playing, what specifications they would like, and this Skyjack model was the best suited for the job," said Bart Kuipers, a project co-ordinator for Serious Request. "We were impressed by the way it worked and how easy it was to use."
And as a fun way of persuading the crowd to pledge money, each time a requested song was played in return for a donation, the platform was raised higher. With a platform height of 50 ft (15.24 m) and platform dimensions of 74 x 168 inches (1.88 x 4.27 m), the SJ9250 RT was ideal for the event. Plus, Kuipers says the lift's ability to easily raise and lower its platform was one of the reasons it was chosen. Boels, a rental company based in Sittard, Netherlands – which has recently placed an order for a large number of Skyjack machines - helped Kuipers to select the SJ9250 RT, which is typically used on construction sites with rough terrains.
Dutch pop music radio station, 3FM, hosted Serious Request and raised nearly €7.6 million for the Red Cross, an international relief charity.
Entertainment for a good cause
Serious Request began in 2004 in the city of Utrecht. Over the past decade its popularity has grown to become an annual multimedia event that takes place in multiple cities.
Over the six-day festival, DJs broadcast from a small temporary radio studio – nicknamed the 'Glass House' – in the city's main square. In return for donations, DJs play listeners' song requests. Other fundraising efforts include celebrities and artists donating items for auction and bands also play free outdoor concerts.
The Serious Request events offer multimedia entertainment, with television coverage, social media interaction and a dedicated mobile phone app. And, under different names, it has also spread to other countries, including Belgium, Switzerland, Kenya, Sweden, South Korea, Austria, Latvia and Portugal.
To date, the Dutch Serious Request events have raised nearly €77 million for the Red Cross, for a number of humanitarian issues, including the provision of safe drinking water in developing countries; helping families affected by HIV/Aids; assisting the victims of land mines; protecting children (including former child soldiers) in the Democratic Republic of Congo; fighting the spread of malaria; and helping refugees in Africa.
"The goal is always the same – to raise money for a 'silent' disaster in the world – the things you don't often see in the news," Kuipers said. "People all over the country start their own fundraising activities or ask the DJs to play that one song they like most, in return for a gift of money."
Photo captions:
1: The SJ9250 RT was used as a stage during Serious Request, a fundraising festival in the Netherlands.
2: Backstage at Serious Request, which raised nearly €7.6 million for the Red Cross.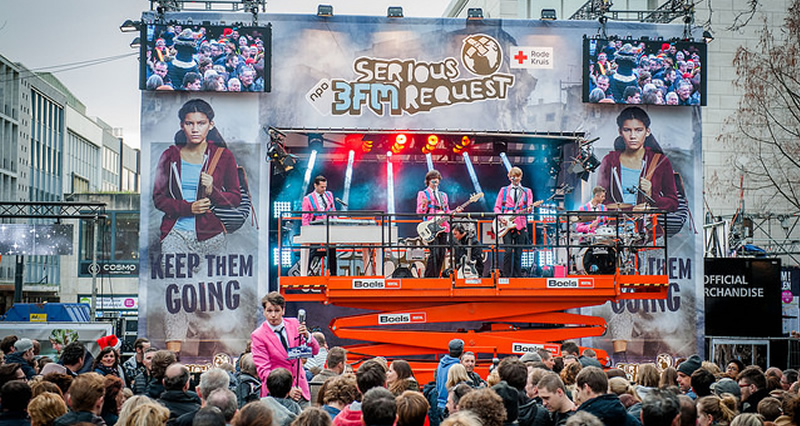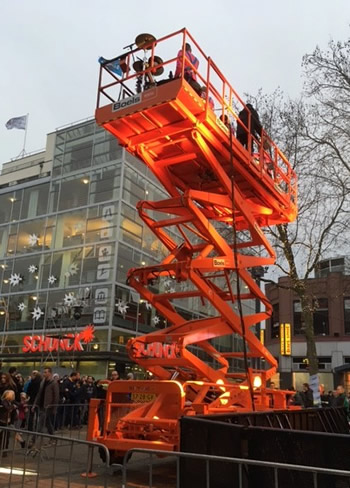 /sites/default/files/attachments/cms_news/seriousrequest_2.jpg