Base Jump reaches new heights
POSTED April 14, 2016
Skyjack scissor lifts help trampoline start-up to reach new heights
Linamar Corporation's (TSX-LNR) Skyjack division helped Base Jump, a trampoline start-up, reach new heights on the outskirts of London, UK. Base Jump, leased four Skyjack electric scissor lifts over a period of three months from Mark One, a tool and equipment hire company based in Essex.
"With Skyjack, there's always someone at the end of the phone if we have an issue, no matter what time of the day we call, and the service engineers are top notch – they are always with us within 24 hours," said Joe Tomkinson, powered access manager for Mark One.
Tomkinson said his company has been using Skyjack equipment for nine years. He recommended Base Jump hire two Skyjack SJIII 4626 and two SJIII 4632 electric scissor lifts to help set up the 35,000 squarefeet trampoline park. Base Jump features more than 75 interlinked trampolines and several base jump platforms that revellers can launch off from. Base Jump is planning to host UK's first trampoline half pipe. With a working height of 9.92 m on the SJIII 4626 and 11.75 m on the SJIII 4632, the lifts were idea for helping with spray painting and installing electrics. Both lifts feature a 1.07 m by 2.13 m platform and are drivable at full height.
At the heart of both scissors is SKYCODED™, Skyjack's proven and simplistic control systems that uses color-coded and numbered wiring system that makes Skyjack machines the easiest to troubleshoot and repair. For example, Black #14 is for the lift function on a SJIII 3219, and it is lift on a SJ63 AJ. Using a relay based control system allows Skyjack AWPs to operate using a simplified system with fewer and less expensive components – less maintenance and lower costs.
Both scissors are also compatible with Skyjack's ACCESSORYZERS™, Skyjack-approved accessories that expand the machine's functionality and adaptability.
"Skyjack provides a truly excellent service and that's why we've increased the number of machines we buy from them in the last three to four years – we weren't receiving the same level of aftercare from competitors," Tomkinson said.
Photos: A Skyjack SJIII 4626 DC electric scissor helps in the creation of wall art.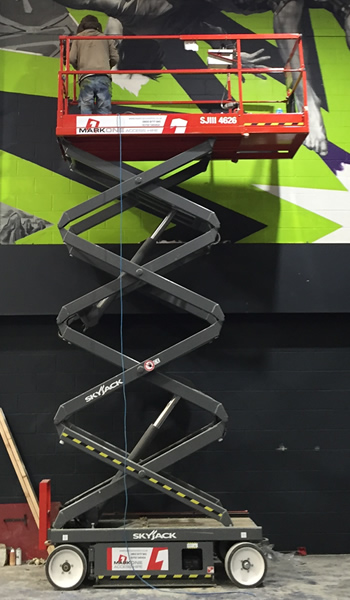 /sites/default/files/attachments/cms_news/basejump_2.jpg