London Skyline
POSTED June 27, 2016
SKYJACK HELPS TRANSFORM THE LONDON SKYLINE
Linamar Corporation's (TSX-LNR) Skyjack division is helping to transform the London skyline. A fleet of Skyjack electric scissors and vertical mast lifts are helping to build two new landmarks – Nova, Victoria, a luxury development in central London, and the new European headquarters for Bloomberg, a business, financial information and media company.
Our clients' requirements can vary from one site to the next, from limited access to the work area, weight-sensitive floors, as well as those awkward-to-reach places," said Alec Ullmer, National Sales Manager of rental company Advanced Access Platforms, which is supplying the Skyjack machines to the developers. "The Skyjack range gives us the options to satisfy most needs as well as being reliable. In addition, the service back-up we receive gives us peace of mind."
Upon completion in October, Nova, Victoria, which sits on 5.5 acres of land in the heart of London's prestigious West End, will house 170 luxury apartments, shops, offices, bars and restaurants. The area is already home to the Queen's residence, Buckingham Palace, broadcaster Channel 4, newspaper publisher Telegraph Media Group, and high-end retailers including Harrods, Jimmy Choo and Tom Ford.
On Bloomberg's website, Michael Bloomberg, founder of the media conglomerate Bloomberg LP, is quoted as saying: "With this building we are creating a lasting legacy for Bloomberg and for the City of London. It's a building that our business needs and that our people deserve and will stand as a symbol of our past successes and our future ambitions."
Internationally renowned architects Foster + Partners designed the new Bloomberg London site, which occupies 3.2 acres and will provide about 500,000 square feet of sustainable office space. Along with office space, the development will house a theatre, restaurants, and a new entrance to London Underground's Bank station. During the excavation phase, the archaeological remains of a Roman temple, dating from 43AD, were discovered and are now protected in a new on-site museum.
Confidence Booster
At Nova, Victoria, a combination of around 50 Skyjack machines - including SJIII 3219 DC electric scissors, SJ16 vertical mast lifts, SJ6832 rough terrain scissors and SJ51 articulating booms - are helping a number of contractors install fire protection equipment, as well as electrical and other mechanical construction work. At Bloomberg's new site, nearly 30 SJIII 3219 DC electric scissors and SJ16 vertical mast lifts are helping carry out the same type of work, as well as glass façade installations.
The SJIII 3219 has a working height of 25.5 ft (7.79 m), weight capacity of 550 lbs (249 kg), a 3 ft (0.91 m) roll-out extension deck, and is drivable at full height.
The SJ16 has a working height of 22 ft (6.75 m), weight capacity of 500 lbs (227 kg), a traversing platform of 20 in (0.51 m), and is drivable at full height.
Both the SJIII 3219 and SJ16 have variable speed, dual holding brakes, and a zero inside turning radius, making them easily manoeuvrable in tight spaces. Both units also feature a tilt alarm, are telematics-ready, and have SKYCODED™ color-coded wiring and can be fitted with ACCESSORYZERS™ for enhanced return on investment.
"We are confident when we supply a Skyjack product that we minimise the risk of any on-site issues," said John Corcoran, managing director of Advanced Access Platform. "It's also important to us that we get good customer service from Skyjack so we have confidence in hiring out their products.
Sutton-based Advanced Access Platforms provides aerial work platforms, booms, scissor lifts, and other specialist machinery to development schemes. The company is adding 91 new Skyjack machines to its fleet this year, bring its total fleet to more than 400 Skyjack unites – which equates to nearly 75% of its entire product range.
"We've been using Skyjack machines for many years now," said Corcoran, who has worked with Skyjack products since 1998. "We like their machines because they offer great versatility across their range and are robust equipment that is often tested in the hire market."
Photo captions:
Skyjack SJIII 3219 DC electric scissors line up in preparation for use at Nova, Victoria in London; The exterior of Nova, Victoria.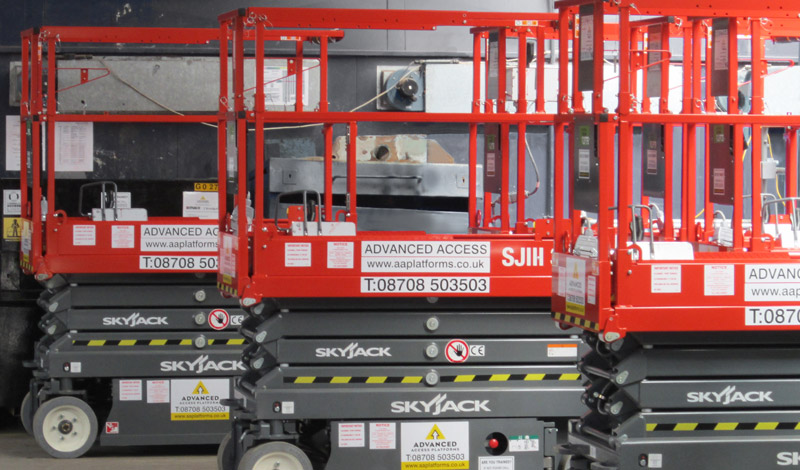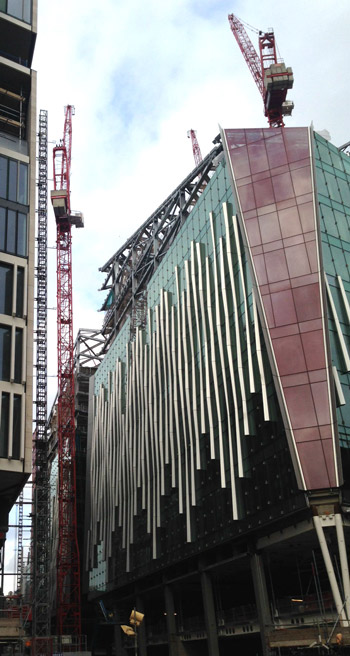 /sites/default/files/attachments/cms_news/skyline2.jpg