Alpe D'HuZes
POSTED July 18, 2016
Skyjack helps Riwal scale the Alps
Linamar Corporation's (TSX-LNR) Skyjack division has helped long-time customer Riwal to scale the heights in the Alps mountain range. The global manufacturer of aerial work platforms sponsored a Dutch team from the international rental company during the Alpe D'HuZes, a gruelling race which combines running, cycling and walking.
"We are happy to have sponsored three Riwal teams that are taking part in the Alpe D'HuZes event," said Malcolm Early, vice president of marketing, Skyjack. "They are our long time partners and it is also for a very good cause."
This was the first time that Skyjack sponsored the Dutch-based company for its entry into the Alpe D'HuZes. The race raises money for research into cancer treatment and takes place each June on Alpe d'Huez, which is regularly used in the Tour de France, one of the world's hardest professional cycling competitions. For this amateur race, participants run, walk or cycle the route on the mountain up to six times. The name Alpe D'Huez is a combination of the mountain's name and the Dutch word for six.
"We are very grateful for Skyjack's help," said Jordy van den Berg, Riwal's procurement and supply chain manager. "There's no individual or team winner. The goal for everyone was to raise as much money as possible for the Dutch Cancer Society."
Rewarding challenge
This year 25 Riwal employees took part in the race, which was the second time the company had entered teams. They raised €60,000 (around $66,400) and the money will be doubled by the company's shareholders.
The money will go to the Dutch Cancer Society (KWF), an organization for cancer related work in the Netherlands founded in 1949.
The Alpe D'HuZes was co-founded in 2006 by a Dutch IT expert and cancer survivor. It has grown in size and now more than 5,000 sporting enthusiasts take part annually. Since its inception, the annual event has raised more than $79.8 million (€70 million), and the race is run entirely by volunteers so that every amount donated goes directly to the research for the prevention and treatment of cancer.
"The main reason for us to do this is to help the Dutch Cancer Society to raise money to fight this terrible disease," van den Berg said. "It's also nice that we do this as colleagues together, outside our daily business."
Since 2015, Riwal has purchased a range of aerial work platforms and access machines from Skyjack for its rental fleets throughout Europe. Internationally, Riwal's fleet consists of 13,000 aerial work platforms and forklift trucks to ensure it can always supply its customers the rental lift to suit their needs.
Photo captions: Riwal's Jordy van den Berg and Dustin Keizer before the Alpe D'HuZes race; Riwal's Nancy van Hees cheers on her colleagues in the event.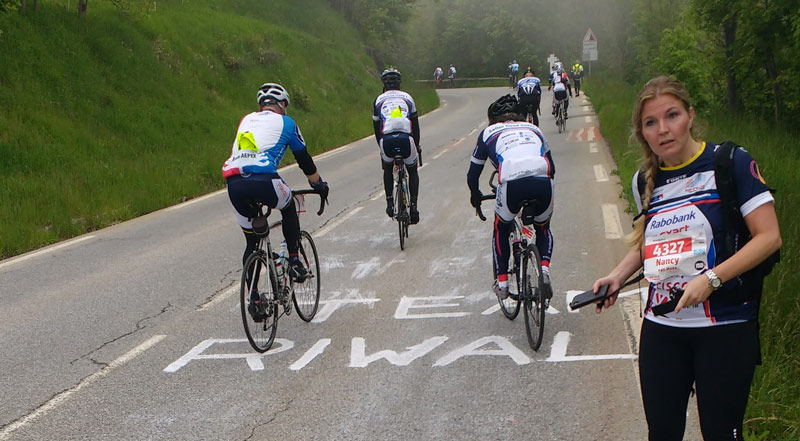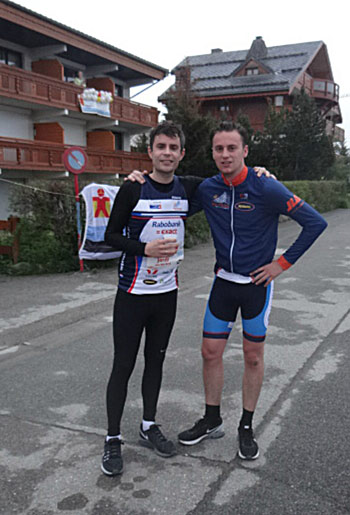 /sites/default/files/attachments/cms_news/riwal_2.jpg