SKYJACK EXPANDS EUROPEAN REACH
POSTED May 19, 2015
SKYJACK EXPANDS EUROPEAN REACH WITH FIRST
After a successful launch at Intermat, Paris, Linamar Corporation's (TSX-LNR) Skyjack Division has already made its first sale of the SJ86 T in Germany — to access rental company AFI Rent, headquartered in Hamburg.
The unit, which was unveiled at the triennial exhibition for the construction and material industries, expands Skyjack's telescopic boom offering and boasts an impressive working height and horizontal reach, as well as competitive high capacity zones.
Higher capacity, greater reach
Skyjack has built up a culture of listening closely to its customers, and the SJ86 T represents yet another 'much asked for' addition to the company's telescopic range.
"When our customers expressed the need for a boom with higher reach and greater capacity, we responded," said Skyjack President Brad Boehler. "It's an exciting time for Skyjack customers — they will receive many new levels of opportunity with the SJ86 T."
One such customer benefiting from Skyjack's latest addition is AFI Rent. With depots in Stuttgart, Lörrach, Basel, Ludwigshafen, Munich, Frankfurt, Hamburg, Gelsenkirchen, Chemnitz and Hanover.
"We continuously strive to improve the service we offer our customers," said Clemens Streit, head of marketing at AFI Rent. "By investing in new machines all the time, the customers have expanded considerably in recent months."
The SJ86 T telescopic boom with jib features a working height of 28.21 m and horizontal outreach of 23.42 m. The jib has a range of +65° to -60° and features optimized designs that improve its strength.
"The SJ86 T is a new product in the 25 to 35 metre telescopic boom market, which is a category AFI Rent is looking to invest more in in the future," Streit noted. "This new unit will certainly appeal to our customers — the higher capacity and greater reach will help us meet increasing demand."
A key feature of the SJ86 T is the product's impressive dual capacity capabilities. With a two to three person capacity rating that increases productivity, the SJ86 T makes a great addition to any fleet. This latest telescopic boom lift also provides an unrestricted platform capacity of 227 kg and a restricted capacity of 341 kg — a valuable feature for Streit.
"The unit's load capacity of 341 kg allows up to three people to work on the machine at any one time," he said. "As a result work progress is increased, meaning the customer doesn't have to rent another machine. The time and money saved by using the SJ86 T is something our customers will greatly value."
With a simplistic, robust design that offers rental companies a high return on investment, the SJ86 T is one machine that Streit imagines the AFI Rent fleet will see a lot more of in the future.
"This machine ticks all the boxes, it's simple to use, is easily maintained and is sold by a reliable supplier — what more could we want?" said Streit.
The sale of an SJ86 T to AFI Rent is the first in Germany; but, with a successful Intermat show in April, Skyjack is certain to see a spike in interest for its newly-launched telescopic boom in the coming months.
GERMAN SALE OF SJ86 T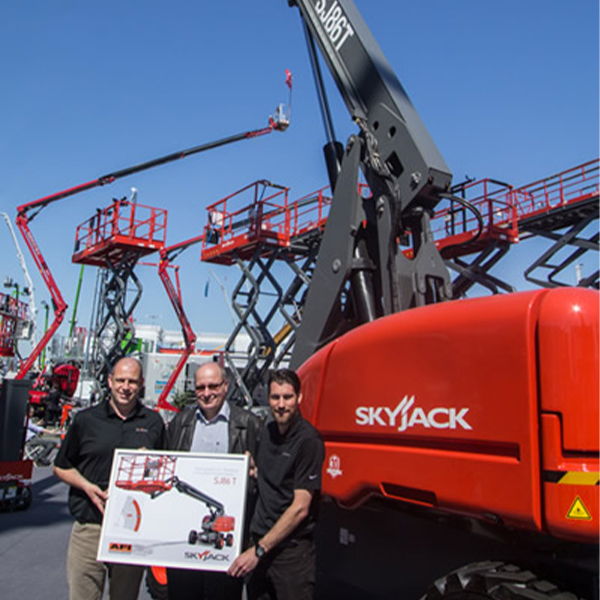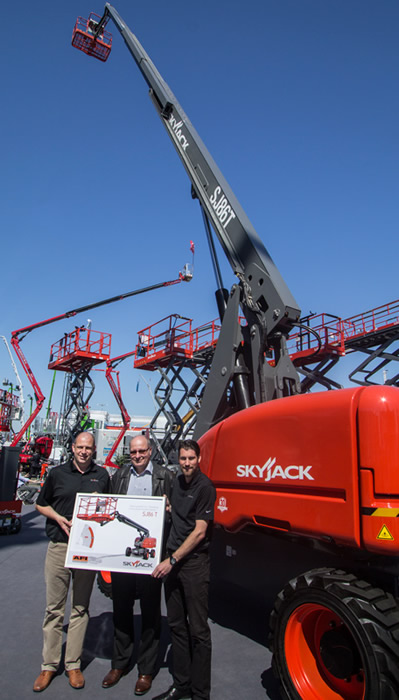 /sites/default/files/2019-01/afi-boom2.jpg