Skyjack gets the ball rolling
POSTED October 03, 2016
Skyjack gets the ball rolling in the premier league
Skyjack division helps some of the UK's top football (soccer) clubs – Everton and Liverpool in the English Premier League, and Glasgow Rangers in the Scottish Professional Football League – get ready for the new season. A fleet of Skyjack scissor lifts and booms help operators carry out repairs and general maintenance at the internationally renowned clubs' stadiums.
"Skyjack's machines are faster and have a better reach than some competitors' machines and the simplicity of the control system makes them very user-friendly," says David Barton, director of Quick Reach, a rental company based in Greater Manchester which hired out the equipment to the clubs.
"The flexibility of having the jib means customers can get right up into the rafters and other awkward places, easily."
Quick Reach, which has three depots around the UK, has supplied a number of Skyjack's SJ86 T telescopic booms and SJ9250 RT rough terrain scissor lifts to rivals Everton FC and Liverpool FC, both of which are located in the North West of England, and Scottish club, Glasgow Rangers FC.
The fleet of Skyjack lifts were used for several months during the summer – the UK's off-season in football – to change the lights, banners and branding materials, check the rigging, and carry out repairs and general maintenance to the rafters and roof at each stadium. This is the second summer the company has supplied Skyjack machines to football clubs in the UK.
"We're happy that our equipment has been used to help some of the top football clubs in England and Scotland prepare for the season ahead," says Malcolm Early, Skyjack's vice president, marketing.
Fit for purpose
The SJ86 T is the largest of Skyjack's telescopic booms. It has a working height of 92.5 ft (28.21 m), a horizontal reach of 77 ft (23.42 m), and a below ground reach of 10 ft (3.05 m). Platform capacity is dual rated for 500-752 lbs (227-341 kg), depending on which part of the reach envelope the operator is in. The SJ86 T has a 5.5 ft (1.68 m) jib with a vertical range of +65°/-65°. It features a drive speed of 3 mph (4.8 kmh) and has a gradeability of 45%. Skyjack's EASYDRIVE™ direction sensing system automatically adjusts to ensure the unit will drive and steer in the orientation of the operator regardless of turret rotation.
The SJ9250 RT is also the largest model in Skyjack's rough terrain scissor lift range. It has a raised platform height of 50 ft (15.24 m), a working height of 56 ft (17.07 m), and a platform width of 74" (1.88 m). The main platform along with two additional extension decks give an overall platform length of 23.6 ft (7.2 m). The unit has a maximum capacity of 1,500 lbs (680 kg) and is fitted with outriggers for additional stability on uneven ground. Both the SJ86 T and SJ9250 RT have engines mounted on a pull-out tray for easy maintenance access and feature SKYCODED™, Skyjack's relay-based, color-coded and numbered wiring system. Accessories for both mobile elevated work platforms (MEWPs) are available via Skyjack's ACCESSORYZERS™ range, such as a material handling stand or heavy duty pipe rack.
"Sites such as sports' stadiums have all sorts of work and access requirements," says Early. "At football grounds, it can be difficult to carry out work without damaging the pitch, but with Skyjack's telescopic boom, that's not a problem as it has an extensive reach."
Good support
In operation since 2014, Quick Reach is run by Dave Barton and his brother, John Barton. Both have worked in the powered access rental industry for many years. The company has a fleet of several hundred mobile elevating work platforms, which they supply to customers in a variety of industries including construction, sports and events. The majority of the fleet is comprised of Skyjack machines, and Quick Reach is continually adding to its fleet.
"Skyjack was the first company we ordered from – they are our first choice of supplier and are our trusted partners," says Barton.
"They've been a great support to us from the start and they're really easy to do business with. Their products are world class and many of our customers are pleased they're now producing more booms."
Photo 1: Skyjack's SJ86 T telescopic boom provides access to the roof at Everton FC.
Photo 2: Skyjack's SJ9250 RT is used for changing the banner at Everton FC.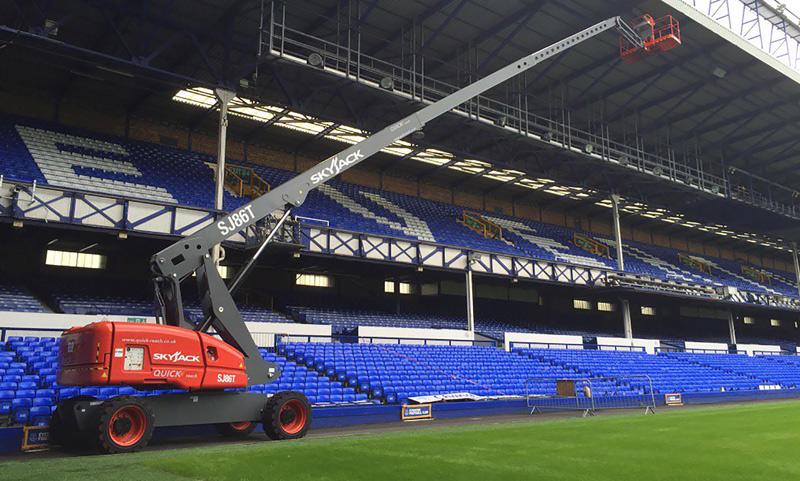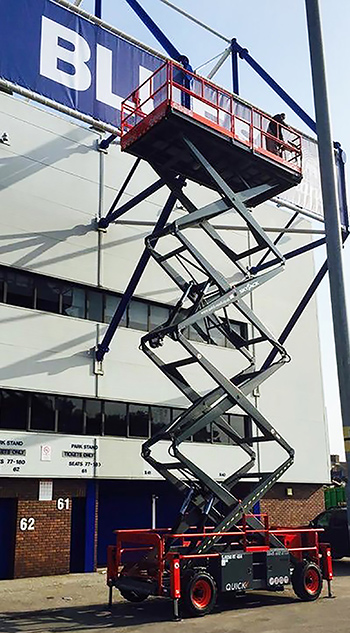 /sites/default/files/attachments/cms_news/3102_everton2.jpg