SkyAccess
POSTED November 28, 2017
Linamar Corporation's (TSX-LNR) Skyjack division is increasing its market share in Switzerland with SkyAccess, a sales and rental company in the country, adding more Skyjack equipment to its fleet. SkyAccess uses Skyjack's mobile elevating work platforms (MEWPs) for a variety of applications including outfitting a retail distribution center and maintaining the highest railway station in Europe, the Jungfraujoch.
"We are a leading player in the aerial work platform sector in Switzerland," said Martin Vögtli, chief executive at SkyAccess. "Skyjack has been a very reliable partner for us. They have developed the right products and had the right focus in making sure their equipment is easy to use."
Headquartered in Oensingen, SkyAccess sells, rents and services MEWPs, along with its sister companies, WS-Skyworker and SkyService. Since 2004, SkyAccess has continually increased its annual purchase of Skyjack units, to update its fleet and offer the latest products to its customers.
"We've built up a good relationship with SkyAccess over more than a decade and our scissors and vertical mast lifts, in particular, are proving to be popular on many different jobsites," said Malcolm Early, vice president, marketing, at Skyjack. "All of our units are designed to be easy to use and reliable, and we're pleased that sales of our booms and rough terrain scissors are also increasing."
Top of Europe

One of SkyAccess's customers, the Jungfrau Railway, used an SJ16 vertical mast lift at the Jungfraujoch, the highest railway station in Europe, to install electricals, clean and move information banners. Skyjack's SJ16 vertical mast lift is a compact self-propelled unit that provides quick and easy access on jobsites in a more versatile manner than using ladders or scaffolding. Drivable at full height, the SJ16 has a maximum working height of 6.75 m (22 ft) and maximum weight capacity of capacity of 227 kg (500 lbs). The compact unit offers zero inside turning radius, 30% gradeability and a rated load lift time of 20 seconds.
Branded as the 'Top of Europe', the station is located 3,454 m (11,332 ft) above sea level. The railway has a cogwheel track with several tunnels, and traverses the Jungfrau mountain and its neighboring Alpine peaks, the Eiger and Mönch. The Jungfraujoch station is a popular visitor attraction thanks to its panoramic views, 'Ice Palace' of sculpture, and snow-sport facilities.
Another Swiss customer, Otto's, a retailer, has used Skyjack's DC electric scissors to outfit a distribution center at its main base in Sursee, near Lucerne.
The SJ6832 RTE electric rough terrain is ideal for indoor and outdoor jobsites requiring machines with zero emissions. With a maximum working height of 11.75 m (38.6 ft), maximum weight capacity of 454 kg (1,000 lbs), the SJ6832 RTE has a rated load lift time of 39 seconds and 45% gradeability.
"Skyjack was one of the first manufacturers to produce this kind of four-wheel drive machines, and we focused very early on in stocking these units," said Vögtli. "We particularly like the SJ6832RTE, as it's a zero emissions rough terrain scissor lift, which is better for the environment."
Image 1 - Skyjack's DC electric scissors are used during the installation process at a distribution center for Otto's a retailer, in Sursee, Switzerland.
Image 2 - Skyjack's SJ16 vertical mast lift in use, moving information banners, at the Jungfraujoch railway station in Switzerland.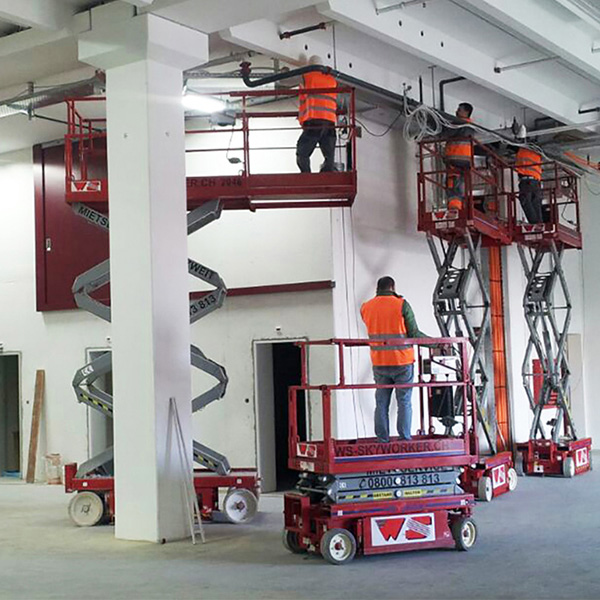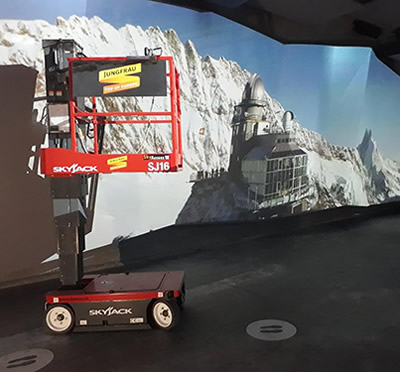 /sites/default/files/attachments/cms_news/skyaccess2.jpg