Skyjack Makes Their Mark on The Big Easy
POSTED March 26, 2018
March 26, 2018; Guelph, Ontario – Linamar Corporation's (TSX:LNR) Skyjack division is reflecting on their memorable performance at The Rental Show in New Orleans, and already gearing up for 2019. The leading aerial platform and telehandler manufacturer brought a team of international salespeople, marketing, product managers, finance, IT, service, and safety representatives all together for this three-day event. Skyjack knew it was important to have team members there from a variety of departments as it takes multiple elements within to maintain the easy to do business with attitude they're known for.
"Our team had a lot to showcase this year and it was our goal to engage with our guests at every stage of the event from the show itself, followed through to our VIP customer appreciation event on Bourbon Street," says Malcolm Early, vice president of marketing at Skyjack. Offering personalized walk-arounds of new products, and hands-on demonstrations of new technology, not to mention on-site masseuses and games, visitors to the Skyjack booth were not left wanting.
Actively engaging visitors by day and making their mark on New Orleans by night, Skyjack's presence at The Rental Show this year was definitely one for the books. Skyjack unveiled new products at their press conference including their first compact telehandler – the SJ519 TH, ELEVATE telematics – a solution for off-highway fleets, on-site operator training simulators to showcase the future of operator training, and HoloLens VR headsets to demonstrate the benefits in utilizing technology in design, lastly Skyjack also showcased a machine that included the key features of what will be the next generation of Skyjack DC scissors for the upcoming ANSI standards, complete with a new ultrasonic-based Platform Proximity Alert (PPA) system.
Here's an overview of what you can expect from Skyjack in 2018:
The Little Big Cab
One of the new products Skyjack unveiled at the show was their first compact telehandler. Staying true to Skyjack's easy to do business with attitude, all major service points are easily accessible in the new SJ519 TH, and it features best in class cab space. Click here for full details on the little big cab.
The addition of the SJ519 TH enhances Skyjack's telehandler offering and presents the opportunity to compete in a whole new class of telehandlers.
ELEVATE: More than Telematics
A key piece of Skyjack's press conference at The Rental Show was the introduction of their off-highway telematics solution, ELEVATE. Powered by Trackunit, this solution was designed for off-highway fleets and the mobile roles that go along with them. Skyjack wanted a solution that incorporates their customers' goals into their own, and they now have that with ELEVATE. Visit the ELEVATE section on the Skyjack website for more information on this new product offering.
Prior to the announcement Skyjack already had over 7,000 units on order for customers looking to track utilization, increase productivity, and promote on-site safety.
Skyjack: Next Generation
With the changing climate and standards for Mobile Elevating Work Platforms (MEWPs) Skyjack sought to not only comply with new ANSI 92.20 standards, but to listen to our customers' feedback and further simplify, and create machines that are even easier to maintain.
The next generation of Skyjack machines includes active load sensing systems in booms and scissors to comply with ANSI 92.20 design standards.
New machines will also include an evolved SkyCoded™ system that retains Skyjack's color coded approach, which continues to help facilitate quick and simple service with a diagnostic display that shows actionable information such as "check pothole limit switches," or "e-stop not pulled".
"We're happy to say that we have several hundred units currently equipped with SkyCoded™ controls that have been used as general rental units for customers across North America for nearly a year now and have received positive feedback across the board," Early explains.
The next generation of Skyjack machines also include a simplified mechanical design for pothole protection, a shroud over the joystick on the DC and rough terrain scissor control box, a high-strength composite control box, and an intuitive single switch operation for electronic e-lowering. The aforementioned PPA system will not only alert the operator of overhead obstructions, but also stop the machine from getting too close.
Another key launch for Skyjack at The Rental Show this year includes their partnership with Serious Labs and incorporating virtual reality in the future of operator training. "One of the real benefits of VR training is the ability to safely put the operator in risky situations so they can develop the necessary skills without the risk of physical harm. This gives the trainee proper respect for the equipment," says Ian McGregor, director of product safety at Skyjack.
Skyjack also showed that they're keeping their eyes on the future and is looking to new ways to engage with their audiences. The team handed out some of their new Lego models of the SJ9250 RT, which will be available on the Skyjack store June 2018 and officially launched their CAPACITIES gaming app, which was designed as a way to educate the general public about load capacity guidelines.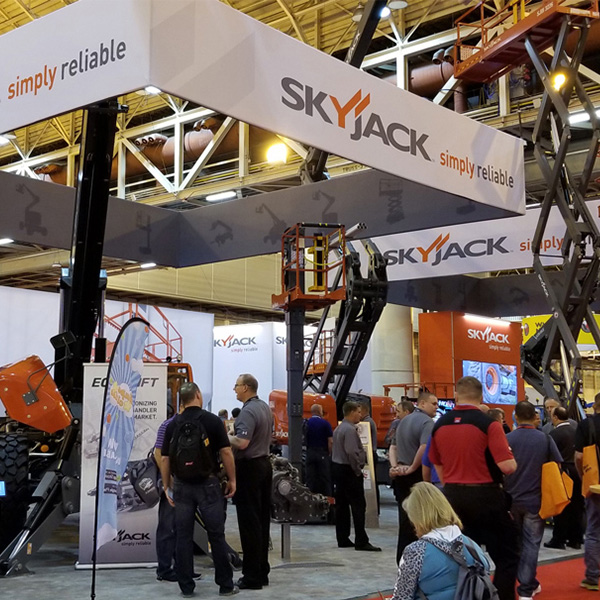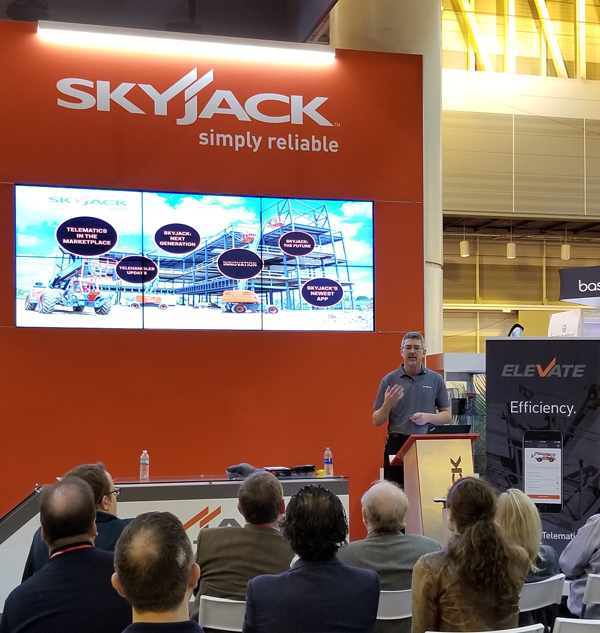 /sites/default/files/attachments/cms_news/18-017_skyjack-rental-show-recap-2.jpg