Industry Leaders
Skyjack electric scissor lifts have been recognized as an industry leader for over a decade. Our DC scissor lifts are ideal for indoor work where accuracy and precision turns around sensitive material is critical.
SKYCODED™
A proven and reliable control system, incorporating Skyjack's color coded and numbered wiring system, make our machines the easiest to trouble shoot and repair which means easier maintenance and lowered costs.
ACCESSORYZERS™
Skyjack offers a full line of ACCESSORYZERS™ to improve your machine's versatility. These manufacturer-approved accessories are designed to add functionality to your machine and convenience for the operator. Whether it's helping you get materials to the work site, protecting equipment from the weather, or enhancing productivity, Skyjack has the right accessory for the job.
RAPIDFOLD
The SJ3219 ANSI 92.20 model is now supplied with RAPIDFOLD as standard. The new system allows the top of the platform rails to quickly fold down, enabling access through standard doorways. Four quick release pins fold the rails within seconds.
RAPIDFOLD features simple and easy components that a single operator can use, with no need for tools.
XStep
Skyjack's XStep maximizes reach and productivity by providing operators with safe, increased access into and around tight, restricted spaces, such as ceiling openings and ceiling mounted structures.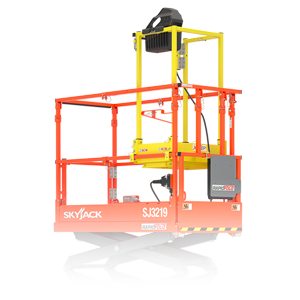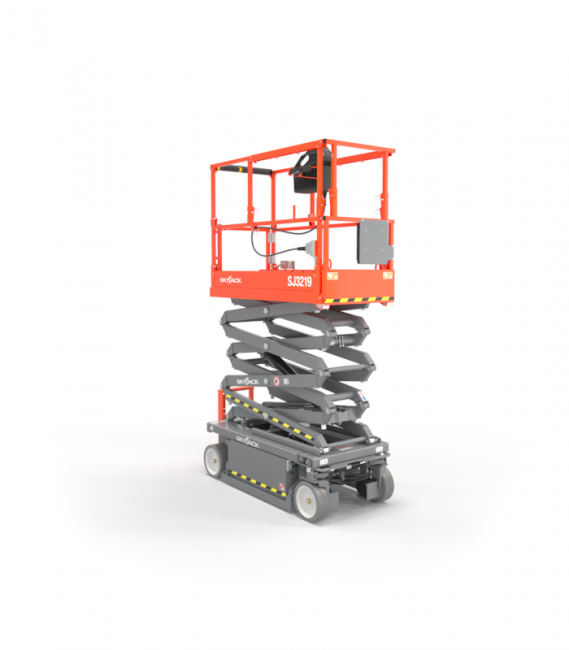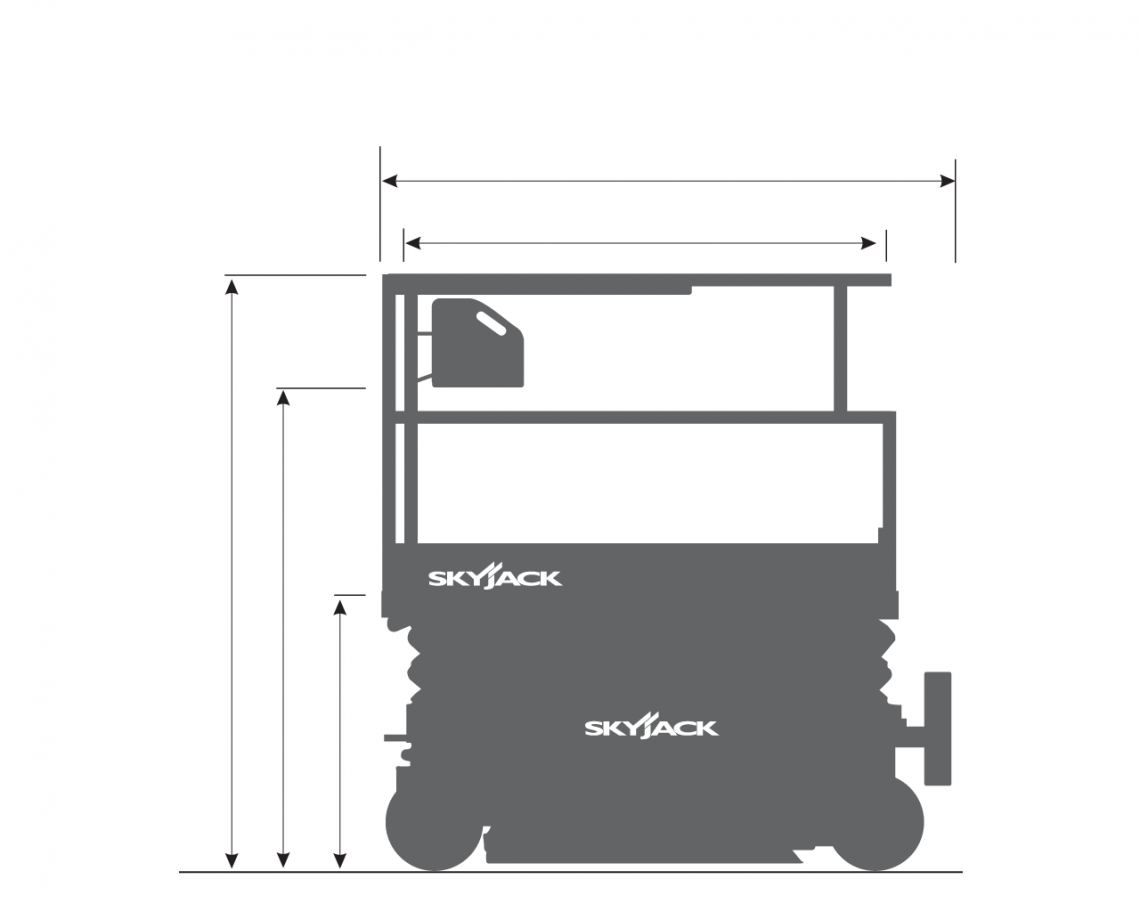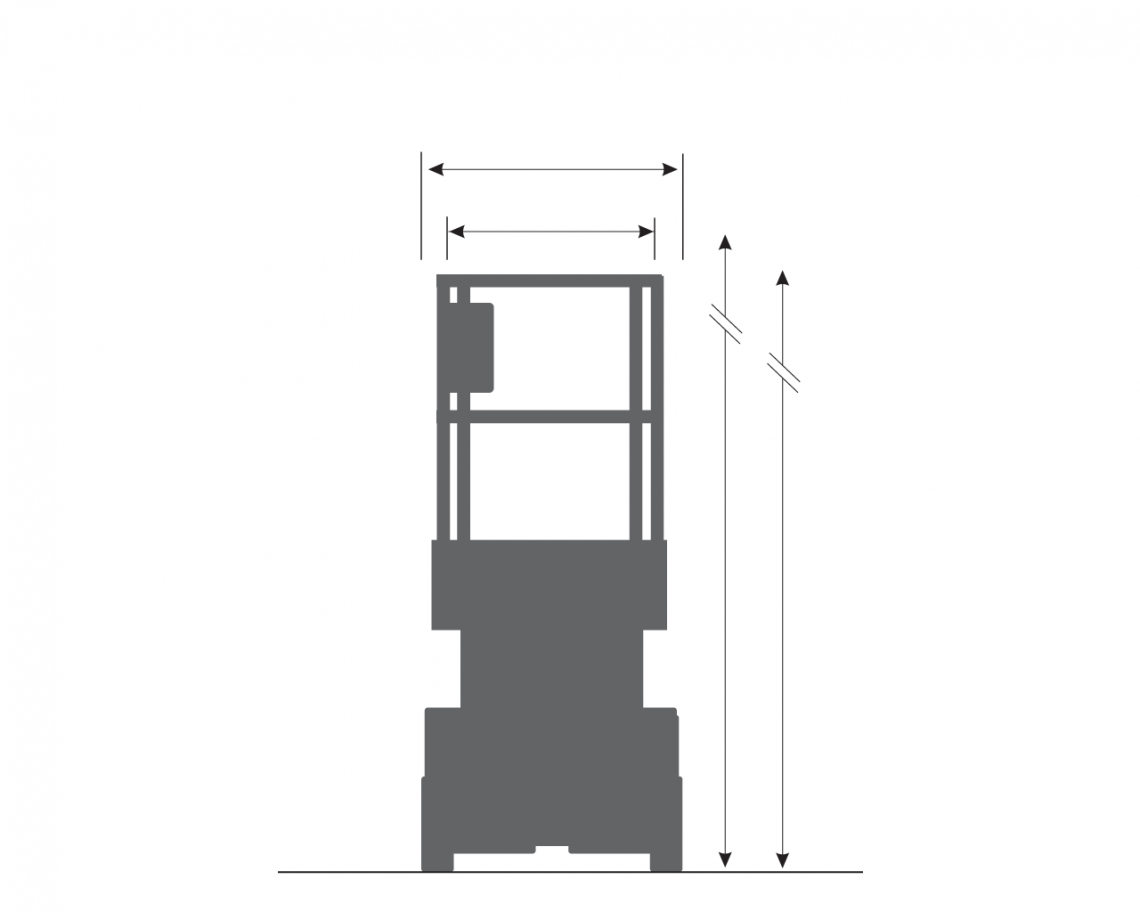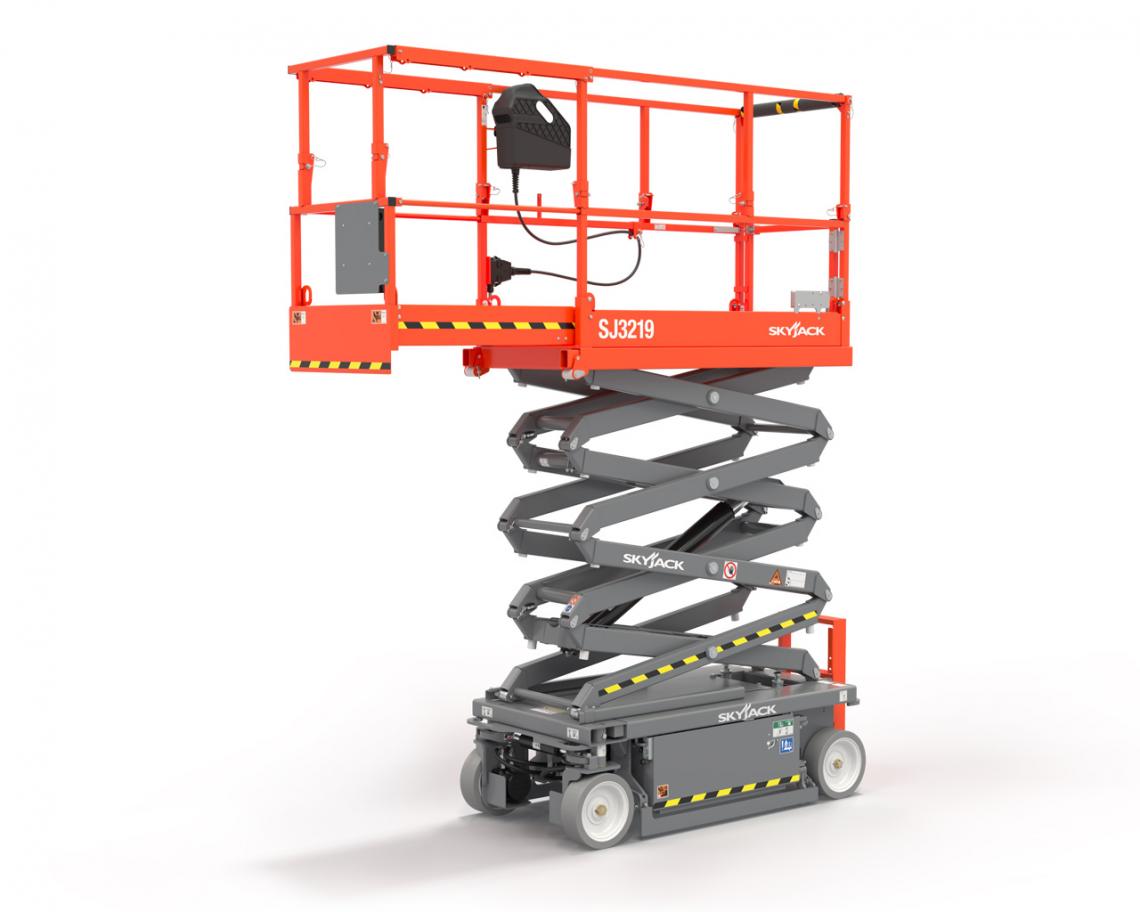 | | SJ3215 | SJ3219 |
| --- | --- | --- |
| Work Height | 20' 7" (6.27 m) | 24' 6" (7.47 m) |
| Raised Platform Height | 14' 7 (4.44 m) | 18' 6" (5.64 m) |
| Lowered Platform Height | 36" (0.91 m) | 41" (1.04 m) |
| Overall Width | 32" (0.81 m) | 32" (0.81 m) |
| Overall Length | 71" (1.80 m) | 71" (1.80 m) |
| Stowed Height (Rails Up) | 79.5" (2.03 m) | 84" (2.13 m) |
| Stowed Height (Rails Down) | 66" (1.67 m) | 79.75" (2.02 m) |
| Platform Width (Inside Dimension) | 26" (0.66 m) | 26" (0.66 m) |
| Platform Length (Inside Dimension) | 61" (1.55 m) | 61" (1.55 m) |
| Extension Deck (Roll Out) | 3' (0.91 m) | 3' (0.91 m) |
| Ground Clearance (Stowed) | 3.5" (8.9 cm) | 3.5" (8.9 cm) |
| Ground Clearance (raised) | 0.50" (1.3 cm) | 0.50" (1.3 cm) |
| Wheelbase | 54" (1.37 m) | 54" (1.37 m) |
| Weight | 2,531 lbs (1,148 kg) | 3,255 lbs (1,476 kg) |
| Gradeability | 25% | 25% |
| Turning Radius (Inside) | 0 | 0 |
| Turning Radius (Outside) | 65" (1.65 m) | 65" (1.65 m) |
| Lift Time (With Rated Load) | 17 sec | 19 sec |
| Lower Time (With Rated Load) | 16 sec | 25 sec |
| Drive Speed (Stowed) | 2.1 mph (3.4 km/h) | 2.1 mph (3.4 km/h) |
| Drive Speed (Raised) | 0.7 mph (1.1 km/h) | 0.7 mph (1.1 km/h) |
| Maximum Drive Height | Full Height | Full Height |
| Capacity | 600 lbs (272 kg) | 500 lbs (227 kg) |
| Distributed Capacity (Main Platform) | 350 lbs (159 kg) | 250 lbs (113 kg) |
| Distributed Capacity (Extension Deck) | 250 lbs (113 kg) | 250 lbs (113 kg) |
| Local Floor Load (With Rated Load) | 159 psi (1,093 kPa) | 168 psi (1,159 kPa) |
| Overall Floor Load (With Rated Load) | 203 psf (991 kg/m2) | 243 psf (1,188 kg/m2) |
| Maximum # of Persons | 2 | 2 |
| Tire Type | Solid, N/M | Solid, N/M |
| Tire Size | 12 x 4 x 8 | 12 x 4 x 8 |
| accessories and options | SJ3215 | SJ3219 |
| --- | --- | --- |
| AC INVERTER | | |
| BATTERY OPTIONS | | |
| BIO OIL | | |
| BOARD CARRIER | | |
| DC HEAVY DUTY PIPE RACK | | |
| DC LIGHT DUTY PIPE RACK | | |
| DUAL FLASHING LIGHTS | | |
| EE RATING PACKAGE | | |
| EXTENDED WARRANTIES | | |
| FLASHING LIGHT | | |
| FULL HEIGHT SPRING HINGED GATE | | |
| NON DESTRUCTIVE TESTING | | |
| SGLE | | |
| TOOL CADDY | | |
| XStep | | |
| ELEVATE | | |