Skyking invests in Skyjack
POSTED July 07, 2015
Chicago startup Skyking Lift Rentals invests 100% in Skyjack equipment
When Skyking Lift Rentals, a Chicago-based startup, was preparing to launch its rental business in fall of 2014, it had no doubt that it wanted to invest only in aerial work platforms manufactured by Linamar Corporation's (TSX-LNR) Skyjack division.
"I'm not nervous that I've invested 100 percent of our money in Skyjack equipment—I'm nervous that I don't have more of them,"said Paul Zaremba, one of the three co-founders of the Illinois-based rental company and a veteran with more than a decade of experience in the equipment rental business.
Launched in January, Skyking Lift Rentals was co-founded by three industry veterans with a combined 35 years of experience in the rental-equipment industry. The company has a fleet of some 130 scissor lifts and services the greater Chicagoland area. Currently, the startup has a fleet of primarily SJIII 3219, SJIII 3226 and SJIII 4632 scissor lifts to meet growing demand from its core customers of electricians, plumbers and people working in heating and cooling.
"Right now we don't own any booms but we'd love to grow that part of the business down the line," Zaremba said.
Customer feedback was another reason that solidified Skyking Rental Lifts' decision to invest solely in Skyjack aerial work platforms.
"Our customers tell us Skyjack equipment is the most reliable and easiest to fix," Zaremba said. "Plus, customers are so familiar with Skyjack's aerial work platforms that in this part of the country, scissor lifts are referred to as 'Skyjacks.'"
All Skyjack equipment are designed and engineered around the Simply Reliable philosophy, which makes Skyjack products easy to service, maintain and repair. By keeping design simple and using proven technology, the reliability and ease of service is common to all Skyjack products. Robust steel construction ensures equipment is strong, durable and easy to repair. Replaceable modular platform railings and repairable fiber glass cowlings help reduce maintenance costs.
"Rental companies like us need to have newer and reliable equipment. We need maximum equipment uptime and can't afford to have machines breakdown since that might break the company financially," Zaremba said.
Great ROI
"Skyjack equipment is also the easiest to resell by far," Zaremba said. "Skyjack equipment typically fetches between 20 percent and 30 percent of the original purchase price even after rental companies lease the equipment for a decade."
Skyjack produces aerial work platforms that offer the rental industry's best lifecycle value through lowering cost of ownership and making it easy to service and maintain the equipment. Reconditioning services help extend equipment life cycle, increase return on investment and help retain high residual values.
"Unlike other brands, Skyjack is consistent in the quality of their equipment," Zaremba said. "With other brands, when it comes to reselling or purchasing used equipment, everyone is nervous about what year the equipment was made because other brands' machine had different problems in different years—with Skyjack it's been strong all along."
Trusted partners
Availability of parts and great product support are also reasons Skyking Lift Rentals choose to invest in Skyjack equipment.
"Repairing Skyjack equipment is a very simple process for both rental companies and buyers," Zaremba said. "If a contractor has a problem with it, he knows the problem is fixable and won't break the bank."
Skyjack designs equipment to use common components across model groups wherever possible, reducing the number of service parts needed to maintain Skyjack products. About 80 percent of recommended service parts across the range are common—reducing stock holding needs. The use of "off the shelf" service parts wherever possible, as opposed to custom designs, means that replacing or repairing components is easy and cost effective.
"For a startup, such as ours, it's important to be able to do more with less and the commonality of parts across Skyjack equipment enables us to do just that," Zaremba said. "We love Skyjack equipment and are looking forward to growing our company and fleet."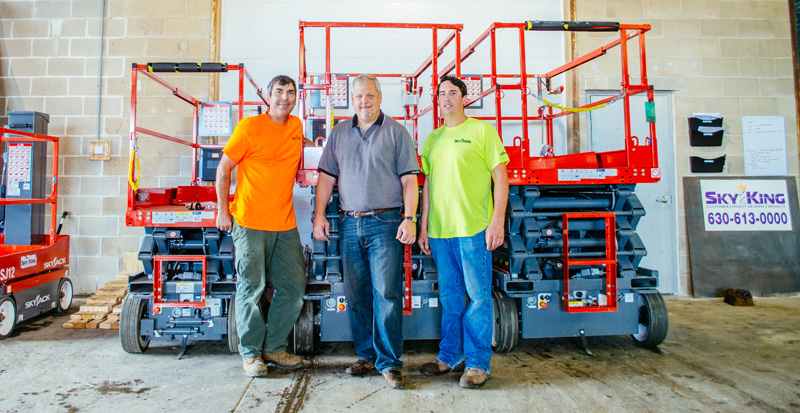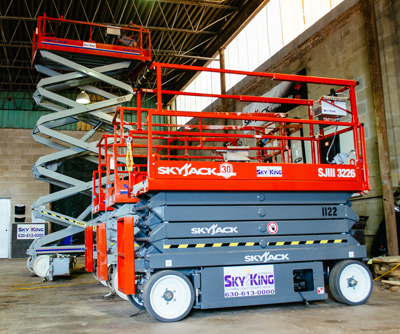 /sites/default/files/attachments/cms_news/skyking2.jpg