SKYJACK LAUNCHES BOOM DAYS
POSTED August 10, 2015
SKYJACK LAUNCHES BOOM DAYS FOR GERMAN CUSTOMERS
Earlier this year, Linamar Corporation's (TSX-LNR) Skyjack Division hosted two Boom Days in Germany to help promote the company's range of telescopic booms as well as other products.
Germany kicked off proceedings, holding the first of several events for East German customers on 14th, 15th and 16th April in Crimmitschau. The event aimed at customers in West Germany took place on 8th and 9th July in Witten.
"As one of the world's leading suppliers of access equipment, Skyjack scissor lifts are known in the access and material handling industry for being good quality, reliable units," said Andreas Stumpf, sales manager for Skyjack Germany. "Boom Days has been organized to help our customers learn more about and test some of our other offerings — including booms."
The line up
Representatives from over 30 companies turned out at the events in Crimmitschau and Witten — some existing, some prospective. And visitors were not short of activities — the first day was reserved for service training, while the show itself was held the second and third days.
"I greatly appreciated the service training on offer," said Frank Winkler, Skyjack customer and general manager of Arbeitsbühnenvermietung Winkler. "The practical elements were very helpful and the focused training for troubleshooting and maintenance added value to the day."
Visitors to the event in Crimmitschau were able to test a range of machines — including the SJ46 AJ, the SJ51 AJ, the SJ63 AJ and the SJ66 T — in an outdoor environment. At Boom Days held in Witten, the SJ6826 RT, the SJ6832 RT, the SJ46 AJ, the SJ51 AJ, the SJ63 AJ, the SJ66 T and the new SJ86 T were all available to test drive. At both shows, two machines of each specification were on hand, helping customers to take full advantage of the test area.
"The Booms Days series is designed to help build Skyjack's relationship with its customers across Europe," said Stumpf. "As the manufacturer of simple, reliable products, Skyjack is a trusted brand within our industry — events such as this help us draw customers closer and show them what our machines really are capable of."
There was also refreshments served throughout the two days, as well as a raffle — two lucky winners received a pair of tickets to the MotoGP German Grand Prix, being held at Sachsenring near Chemnitz, Germany, July 10, 11 and 12.
"As a customer, events such as Boom Days really stand out," said Nils Pradel, another Skyjack customer and general manager of PRADEL Arbeitsbühnen. "Having the opportunity to meet Skyjack representatives from my region, as well as spending time learning about and testing the different units, is so beneficial."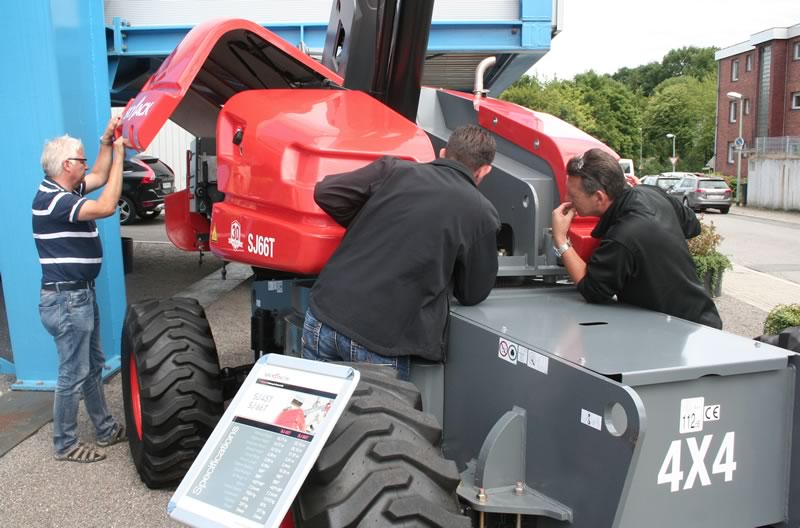 /sites/default/files/attachments/cms_news/boomdays2_2.jpg