Apache Equipment
POSTED October 13, 2017
Skyjack helps Apache Equipment Rentals build new headquarter
Linamar Corporation's (TSX-LNR) Skyjack division is helping Apache Equipment Rentals build its new two-story headquarter in Phoenix, Arizona. A fleet of Skyjack mobile elevating work platforms (MEWPs) are helping construct the rental company's new location, as its current office will be demolished to make way for a new freeway connecting the South Mountain area and Tucson.
"The new, multi-functional complex is comprised of our main office, service bays and storage space. Besides a paint booth and a grease pit, we'll also have several training rooms," said Bob Nally, president of Apache Equipment Rentals.
A fleet of about 50 Skyjack MEWPs—including scissor lifts, boom lifts and telehandlers of various models— are working to complete the 23,328-square-feet building, which is scheduled to open in November. Crews are using the Skyjack equipment to install drywall, roofing, electrical wiring and to paint the building.
"We've been a Skyjack partner since the day we opened the business," said Nally. "We trust in Skyjack that their high-performance equipment will help us complete the new building efficiently and safely."
Superior performance
The Skyjack models on the jobsite include: the SJIII 3219 and the SJIII 4626 electric scissor lifts, the SJ6832 RT and SJ8841 RT rough terrain scissors, the SJ46 AJ articulating boom, the SJ66 T and SJ86 T telescopic booms, and the SJ843 TH and the SJ1056 TH telehandlers.
Used indoor for painting and ceiling projects, both the SJIII 3219 and SJIII 4626 are designed to offer high flexibility in narrow areas. The SJIII 3219 has a maximum working height of 25 ft (7.62 m) and offers 90 degree steering and zero inside turning radius. For higher reach, the crew used the SJIII 4626, which has a maximum working height of 32 ft (9.75 m). Both machines are drivable at full height, which allows operators to navigate through tight space without the need the lower the platform.
Ideal for construction that need straight vertical or horizontal reach, crews are using the SJ66 T and SJ86 T telescopic booms to work on finishing the building exteriors. Similar to other Skyjack boom lifts, the two machines are equipped with an axle-based drive system that provides superior traction and terrainability.
They also feature a 360-degree continuous rotation. The SJ66 T and the SJ86 T have a maximum working height of 72 ft (21.95 m) and 92 ft (28.04 m), respectively.
Workers are using Skyjack rough terrain scissor lifts and articulating booms to install fans, trusses and support equipment for the tilt-up concrete wall, as well as telehandlers to lift air conditioning units and roofing materials:
• The SJ6832 RT has a working height of 38 ft (11.58 m);
• The SJ8841 RT has a working height of 47 ft (14.32 m);
• The SJ46 AJ has a working height of 52.3 ft (15.93 m);
• The SJ843 TH has a maximum lift height of 43.4 ft (13.2 m) and a maximum lift capacity of 8,000 lbs (3,629 kg);
• The SJ1056 TH has a maximum lift height of 56.3 ft (17.14 m) and a maximum lift capacity of 10,000 lbs (4,535 kg).
"We are very pleased with Skyjack equipment's simple reliability and ease of operation. Plus, we appreciate how Skyjack designs its machine to ensure workers' safety at height," said Nally.
A decade of success
Established in 2004, Apache Equipment Rentals serves clientele in the Phoenix metro area and is a member of the American Rental Association. After 13 years in partnership with Skyjack, Apache Rental Equipment now carries more than 400 Skyjack MEWPs in their fleet.
"Over the past 13 years, we have developed a wonderful relationship with the Skyjack team, and have only found them becoming easier and easier to do business with," said Nally. "Their exceptional aftersales service and dependability has been a strong support for us when we need to provide solutions that meet customers' needs."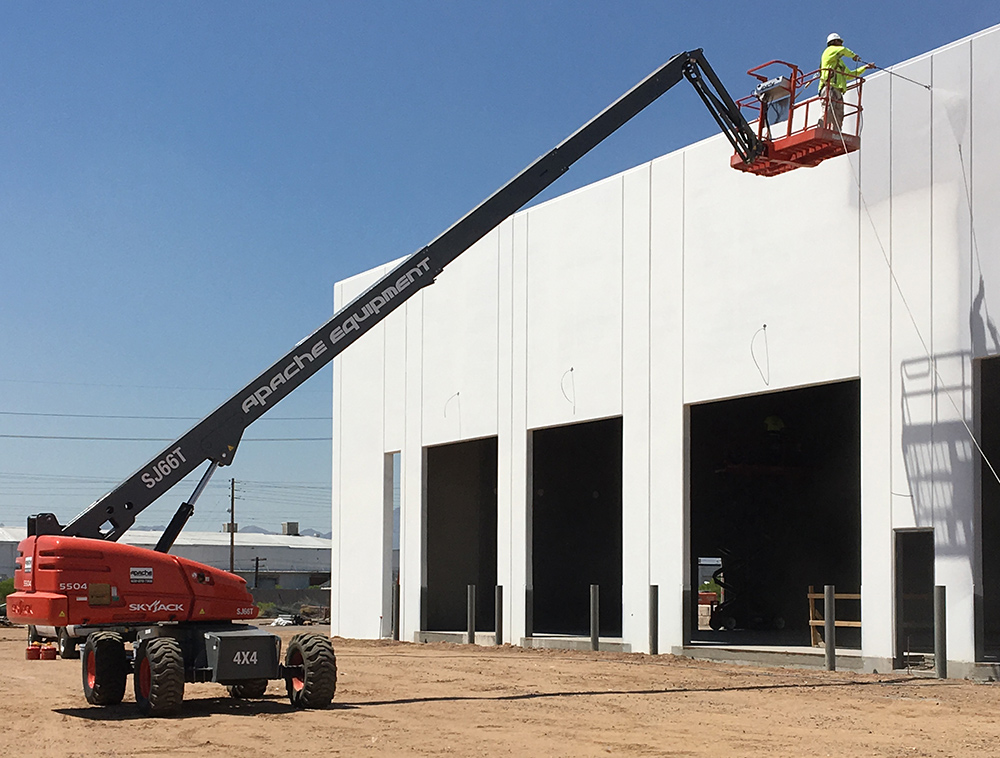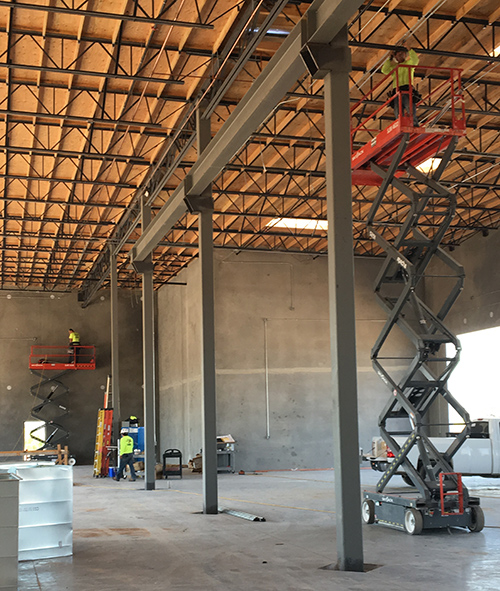 /sites/default/files/attachments/cms_news/apache2.jpg