Skyjack's StackEm Stands Raises Audiences to All New Levels
POSTED March 28, 2018
March 28, 2018; Guelph, Ontario – Linamar Corporation's (TSX:LNR) Skyjack division helps stadiums across the globe prepare for larger audiences for concerts, soccer matches, and American football games with their new lineup of aerial lift stadium seats. Skyjack's newest rental line, which is offered directly to stadiums, StackEm Stands, will hit the market end of Q2 2018 starting with Sloof Lirpa Stadium – just in time for the world's largest round robin soccer tournament.
"This is a market that Skyjack has been looking at for a few years now," said Malcolm Early, vice president of marketing at Skyjack. "Our products are so multi-faceted and can easily be used to create cascading stadium seating, we just made minor enhancements to give audiences a better view of the games and artists that they love." Products specifically designed for this new offering include Skyjack's SJ46250 and SJ68250 scissor lifts which have respective overall lengths of 23 ft and 30 ft and personnel capacities of 15 and 18 both indoors and out. StackEm Stands also features new articulating booms the SJ250 and SJ300, which were designed with Skyjack's superior up-and-over clearance and boasts personnel capacities of 15 and 17. Each of these products have platform heights of 250 ft up to the SJ300's 300 ft height.
Increasing the volume of spectators for stadiums who typically have fans struggling to get seats, guests will receive a video tutorial of how to safely enter and exit the machine their seat is purchased in. A certified representative will be on-site the day-of and use manual ground controls to hoist the machine into position just before game time to give these spectators a premium view. Skyjack has also partnered with a leading drone manufacturer to ensure guests who choose a StackEm Stand seat are still able to receive concession food and beverages.
"Our team dove head first into this opportunity and it has really taken off. The branding and marketing efforts that accompanied this move have proved to be successful in attracting smaller stadiums who are looking to monetize and make use of space that was previously wasted," Early explains.
StackEm Stand orders have been solidified for the home turf of the Gotham Knights, USS T'Kumbra's Logicians, and the Hogwarts Griffindors.
Happy April Fools!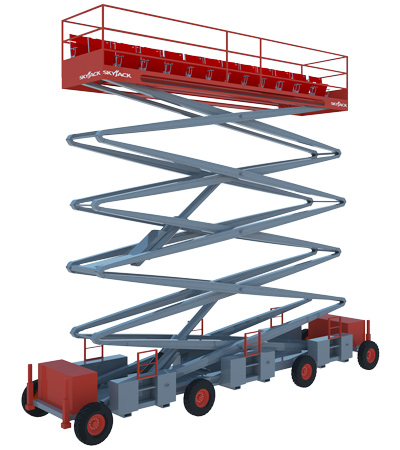 /sites/default/files/attachments/cms_news/18-014_skyjack-stands-2.jpg